Marine Scotland
Connecting Seas on Valentine's Day!
March 11, 2019 by Marine Scotland Communications No Comments | Category Collaborations, Marine Scotland general, Marine Scotland Science, Uncategorized
Marine Scotland has been involved in a number of marine planning projects throughout Europe.  The INTERREG NorthSEE Project is one of those projects (along with MUSES, that we blogged about last week) and recently, they held their final "Connecting Seas" conference, to mark the end of the project. The conference was jointly organised with the sister project, BalticLINes which covers the Baltic Sea).
Here, project co-ordinator Dr Andronikos Kafas tells us more about the conference: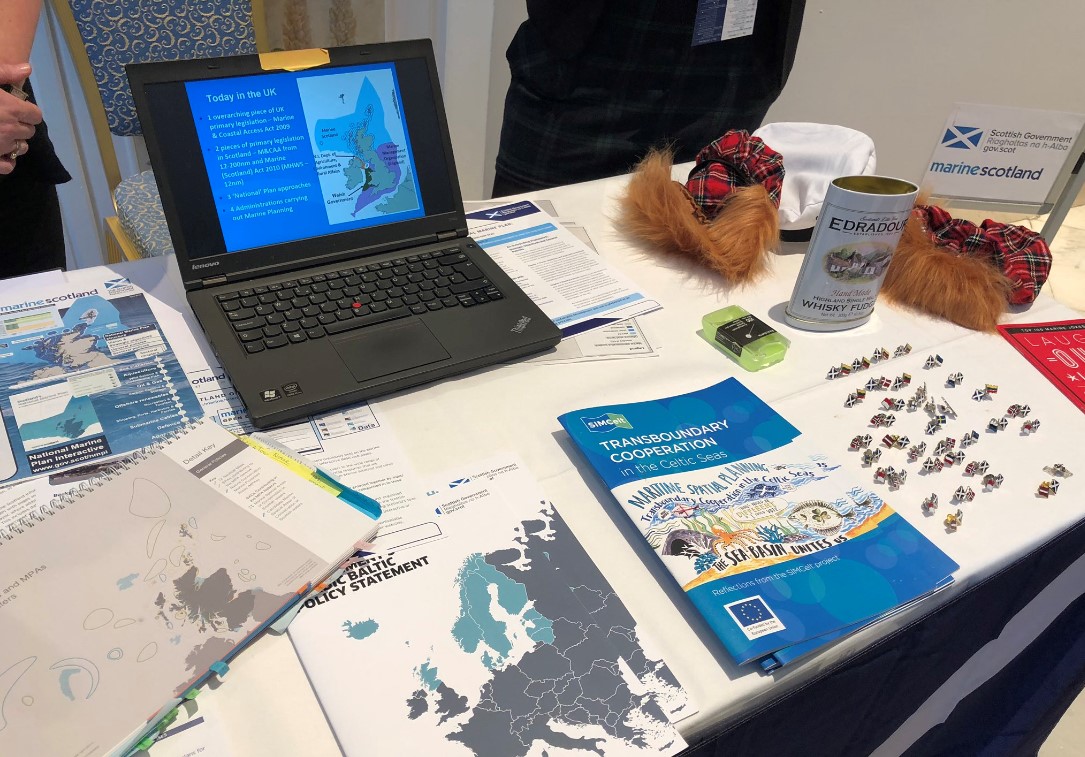 "The "Connecting Seas" Conference took place in the maritime city of Hamburg in Germany on 13th and 14th February 2019. The name "Connecting Seas" was very fitting as the conference involved the joining of two sea basin projects 'NorthSEE' for the North Sea and 'BalticLINes' for the Baltic Sea. This joining was particularly special as the final day of the conference took part on Valentine's Day! As someone commented, while this didn't perhaps represent the marriage of the two sea basins as this was early days, it was definitely the beginning of a long term relationship!
The conference was a great success with over 200 attendees from all over the North and Baltic Sea Regions including all national Maritime Spatial Planning (MSP) authorities, high-level officials and a variety of environmental NGOs along with energy and shipping industry stakeholders.
The joint conference offered up a unique opportunity for the multiple nations of two neighbouring sea basins to come together to share their knowledge and expertise on Maritime Spatial Planning. We introduced a '(Marine Spatial Planning) MSP Sailing Tour' – a fun and novel way of showcasing how individual countries were approaching planning. Individual stands were set up with relevant information on marine planning and small groups of participants 'sailed' around some of them to hear a short talk on how the country deals with MSP and the processes involved. This was a highly effective and efficient way of being able to digest and share knowledge and Marine Scotland was commended by delegates and voted 'Best Stand' for informative, engaging and also entertaining talks. This had nothing to do with the Scottish-themed hats, free shortbread, whisky flavoured fudge and Saltire pin badges!
Marine Scotland Science lead sessions on the Energy Work Package of the NorthSEE Project and also worked on Regional Marine Planning, Multi-level Governance and Stakeholder Engagement sessions. In each of these sessions, the outputs from the INTERREG NorthSEE and BalticLINes projects were disseminated and comparisons were drawn between sea basins to facilitate knowledge exchange across borders. There was a visual artist present throughout the conference who collated the main messages from all of the sessions into one final masterpiece. This can be seen along with a group photo of our North-Baltic Sea MSP family.
In addition to the conference, there was an event involving the MSP Challenge 2050 electronic game, which has been developed under the projects. Versions for both the North Sea and Baltic Sea were played simultaneously by invited participants from both sea basins. The board game version was also successfully played as part of one of the workshop sessions as a tool to facilitate international stakeholder engagement for joined-up Maritime Spatial Planning."
Further Information
Tags: Baltic Sea, Connecting Seas, MSP, North Sea, NorthSEE
Comments