Marine Scotland
How our Planning Team Plan for a Plan!
June 11, 2020 by Marine Scotland Communications No Comments | Category Marine Planning, Marine Scotland general, Uncategorized
Last December, after two years of technical planning work, stakeholder engagement, drafting, revising, re-drafting and several sleepless nights the 'draft Sectoral Marine Plan for Offshore Wind Energy' was published and open for public consultation, meeting a Programme for Government commitment.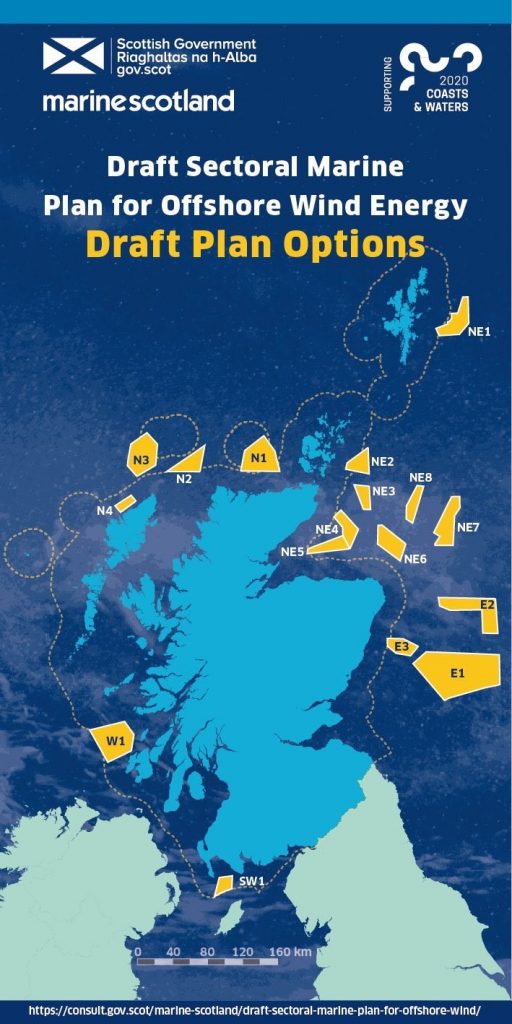 Over 350 people attended across all of the events, including; community councillors, elected members, local residents, renewable energy developers, fishers and fishery membership organisations, yachters, enterprise organisations, local business owners, local development trusts, marine planning partnerships, local council officials and stakeholders such as RSPB Scotland and Scottish Natural Heritage.
The draft Plan sets out the proposed locations for further offshore wind development, in Scottish waters, and will be used by Crown Estate Scotland in its next offshore wind seabed leasing round (ScotWind). The draft Plan is accompanied by a very hefty set of supporting environmental, economic and social assessments.
After a couple of weeks off for Christmas and some hectic planning (as planners, we plan best under pressure), in February we took the draft Plan on the road and began a hectic eighteen stop, five week-long tour of Scotland (and London).
Dealing with the influx of detailed questions about the topics was quite a challenge – and some days flew past, whilst others felt a little longer! One of the newer skills we've acquired is that we can all now pick out the commercial shipping density maps (1 of 267) from the supporting documents, like a magician pulling a card from a deck of cards.
The feedback from the consultation events, and all of the responses, will now be analysed and will inform Scottish Ministers about the key issues, and help shape the Plan going forward.

How did we do it?
We had a small team with a lot of ground to cover, so we had to split up to make the most of the time. To ensure consistency, our resident tech expert made a standardised presentation, along with more detailed regional/local presentations, which we made accessible online for anyone that couldn't attend the events.
Contingency planning – travelling to the islands in winter is always going to be fraught with difficulty. For each of the island legs we made sure we arrived in plenty of time, or sent an advance party. This was handy when several people who were due to join us in Orkney couldn't make it because of the bad weather (apparently the abortive flight from Edinburgh (which landed in Glasgow) was a little challenging, even for seasoned passengers!) and meant that one of our colleagues decided the ferry back was a far more attractive proposition.
We were lucky to enough to have support from colleagues across the wider Marine Planning and Policy team and the Licensing Operations Team. This prompted some interesting conversations about how the draft Plan relates to their work. As you can imagine, a lot of stakeholders who attended the events had questions about more than just planning for the next round of offshore wind development and it helped to be able to address as much as possible or point them in the right direction.
There are Marine Scotland colleagues all around the coast and we took the opportunity to drop in and see colleagues where we could. It was great to see some friendly faces and some newer ones. We really appreciated the cups of tea and warm welcomes (as well as the dining recommendations). The local offices were also key in helping to promote the purpose and importance of these events to fishing stakeholders.
Our final event was in London on 11 March, just before the COVID-19 lockdown measures really started to hit. Thanks to help from colleagues in Scotland House, we held the meeting in the Hub, which was a big hit with attendees, to a slightly smaller audience than planned. I have to admit we were a little envious of the view across to the Oxo Tower from their balcony!
The consultation closed on 25 March and we ended up having a total of 443 responses, which we're currently reviewing. The Consultation Analysis Report will be published on our website in the coming weeks.
You can find out more about the draft plan itself here or you can contact the team at SectoralMarinePlanning@gov.scot
Tags: Crown Estate Scotland, environment, marine licensing, Marine Plan for Offshore Wind Energy, Marine Planning, Marine Scotland, Offshore Wind Energy, Programme for Government, RSPB Scotland, Scottish Natural Heritage, ScotWind, Wind Energy
Comments