Marine
Launch of inshore fisheries pilot
November 5, 2020 by Marine Directorate Communications No Comments | Category Collaborations, Compliance, Fisheries, Marine Directorate general
Working in partnership with the local fishing industry via Regional Inshore Fisheries Groups, the Scottish Government has developed a pilot scheme that will test approaches to improving valuable shellfish stocks and reducing gear conflict within an area to the East of the Outer Hebrides.
Starting on 5 November, the Outer Hebrides Inshore Fisheries Pilot will introduce locally agreed limits on creel numbers and soak time.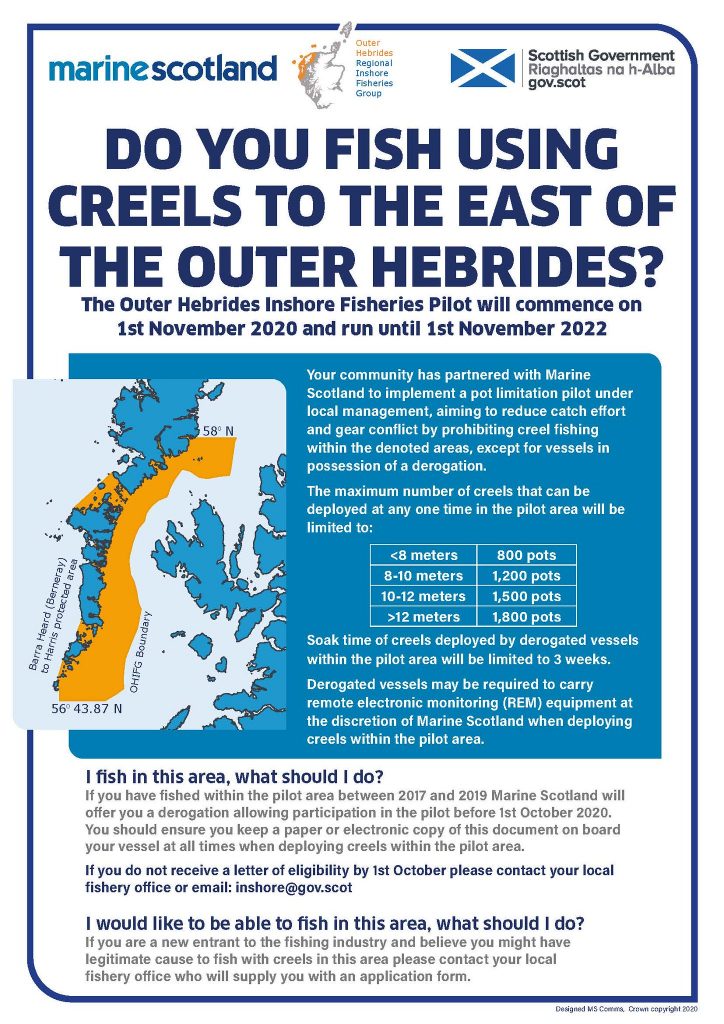 Forty vessels will also be testing a low-cost tracking system as part of the 'Modernisation of the Inshore Fleet Programme', paving the way for more responsive fisheries management decision making.
This pilot will provide the Scottish Government with insights into how well a localised approach to modernising inshore fishing is working. Marine Scotland Science will then analyse data outputs, comparing historical data held on the pilot area to that gathered during its life cycle to measure any notable changes and there will be an evaluation of the wider social and economic impacts of the pilot for fishers and fishing businesses.
Cabinet Secretary for Rural Economy and Tourism, Fergus Ewing said: "The launch of the Outer Hebrides Pilot is an important milestone in our work to test and trial new fisheries management arrangements.  This pilot will help inform our Future of Fisheries Management Strategy in Scotland, helping support sustainable growth in the sector and enable coastal communities to make the most of their waters."
Duncan Macinnes of the Outer Hebrides Regional Inshore Fisheries Group added: "We welcome the strong support provided by the Scottish Government to the Outer Hebrides Regional Inshore Fisheries Group,  in taking forward this innovative approach to the local management of the static gear fishery in the pilot area.
"The tracking technology fitted to vessels will provide additional information to the Scottish Government by identifying fishing effort and catches from more localised grounds.
"Hopefully, the findings from the pilot can be used to extend the principle of local management of creel fisheries to other inshore areas around Scotland."
If you fish within the pilot area
If you fish within the pilot area, you may have already received a letter of derogation in the post. If you have not, please contact your local fishery office, or email inshore@gov.scot and we will be glad to assist you.
You should ensure you keep a paper or electronic copy of this document on board your vessel at all times when deploying creels within the pilot area.
Further Information
Tags: creel fisheries, creel fishing, fisheries, fisheries management, fishery office, fishing, fishing gear, Inshore Fisheries, Inshore Fisheries Pilot, Outer Hebrides, shellfish
Comments