Marine
Vessels supported through resilience fund
July 22, 2021 by Marine Scotland Communications No Comments | Category EU exit, Fisheries
More than 850 fishing vessels impacted by Coronavirus (COVID-19) and Brexit have received resilience funding from the Scottish Government this year.
The Seafood Producers Resilience Fund was launched in February to help eligible shellfish catchers and producers who faced issues exporting to the EU and lost access to domestic food markets as a result of the pandemic.
All applications have now been assessed with payments made to more than 800 vessels across the country and details published on the Scottish Government website. It follows the Sea Fisheries Intervention Fund which was set up in 2020 as an immediate response to the pandemic.
Kenneth Lamond, the owner and skipper of the Dunan Star which is an under 12 metre trawler specialising in prawn fishing around Skye, Small Isles and the Minches was one of the recipients of the funding. He said: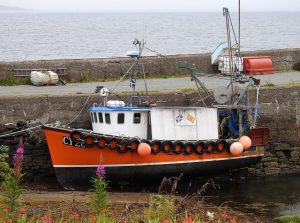 "I'm hugely grateful for the Scottish Government's speedy response to our dire situation, firstly in March 2020 when there was the COVID-19 'market collapse' and then in February in when the chaos caused by Brexit export restrictions hit us like a brick.
"The speed with which the grant package got to boats saved many jobs and livelihoods up here – we couldn't have got to sea without this aid and I would have had to let my crew go.
"The timely assistance is directly responsible for three families' continued livelihoods and our tiny fishing community around Elgol (Skye) would have been really struggling without this aid."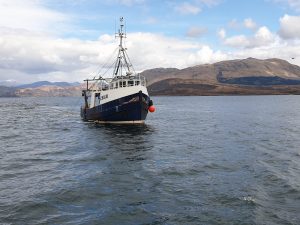 David Fraser, whose boat Girl Errin fishes for prawns from Oban said:
"During a very difficult year this grant has been a real help. Even when it still wasn't possible to go to sea the grant helped ensure essential safety and maintenance could take place.
"While I wasn't able to fish some of the grant helped ensure my boat was caulked (made watertight) and anti-fouled at Crinan boatyard which is essential work and keeps boats safe at sea. This grant didn't just support the fishing boat and those on it, it also supported another essential local business. Normally these costs would be met from the earnings of a fishing boat, but obviously reduced earnings could have led to reduced safety without this support.
"It has meant I've been able to supply local restaurants as they open because essential maintenance was done in advance."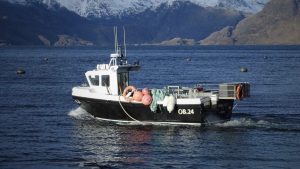 James Robertson, skipper of the Small Isles under 9 metre boat which creel fishes for prawns, crab and lobster around south-west Skye and the Small Isles added:
"The Seafood Producers Resilience Fund has provided terrific support at a time where we were stuffed with no income and no markets. I was faced with releasing crew and abandoning the boat and my livelihood. The grants have been an absolute lifeline."
Background 
Information on recipients of the Seafood Producers Resilience Fund is on the Scottish Government website: Seafood Producers Resilience Fund: beneficiaries – gov.scot (www.gov.scot)
Tags: Brexit, COVID-19, fisheries, Marine, Marine Scotland, resilience, shellfish
Comments