Marine
Targeted and focused approach to strengthen Clyde cod recovery
February 1, 2022 by Marine Scotland Communications No Comments | Category Fisheries
Measures which have been in place for more than 20 years to protect cod during their spawning season in the Firth of Clyde, will continue in 2022 and 2023 with some changes.
The seasonal spawning closure in the Firth of Clyde in place from 14 February – 30 April will see changes introduced to make it more focused and targeted as compared to the closure areas previously announced. The overall size of the closure compared to previous years will be reduced by 28%*, while providing increased protection to spawning cod by prohibiting all fishing activity in the closed areas. (*or 35% of the previous Article 3(a) area only).
Cod prefer to spawn on harder substrate (coarse sand, gravel) but may also spawn on softer ground (sand, muddy sand, sandy mud). The revised closure area takes this into account, and only prohibits fishing activity in likely cod spawning areas while leaving muddy areas open for fishing activity. This represents a change to the Scottish Government's original position. It will only have a short-term impact on local fishers given that the closure of the fishery is for 11 weeks, but by taking action now, we hope to see the stock replenish which will ultimately be beneficial for fishing interests.
Rural Affairs Secretary Mairi Gougeon said:
"I want to thank all the stakeholders involved for their participation and patience in what have been extremely constructive discussions over the past few days. We have listened to their concerns and taken these on board.
"As a result of these discussions and based on the scientific evidence, we have introduced closures that are more focused and targeted, reducing the overall size of the closure compared to previous years by 28%. However, this part of the Clyde area will still largely be closed to all fishing, eliminating disturbance during these critical 11 weeks for future cod stocks.
"We will continue our engagement with all parties involved and increase monitoring of activity in order to assess progress. A stocktake meeting will be held with stakeholders after the closure period to reflect upon its effectiveness and impacts. We will also ensure we learn from this experience and apply any lessons to future closures.
"The revised closure areas are a pragmatic and evidence-based solution to ensure that primarily, we are still seeking to protect the spawning cod whilst also mitigating potential socio-economic impacts on our vulnerable coastal communities."
Stakeholders have been engaged in developing these changes and a review meeting with stakeholders will be held following the end of the closure in 2022 to assess its effectiveness and practicality. During the closure the Scottish Government's Marine Scotland directorate will increase monitoring of activity and catches to assess in particular whether, and where, cod are being caught outside the closure areas, and whether they were mature enough to spawn.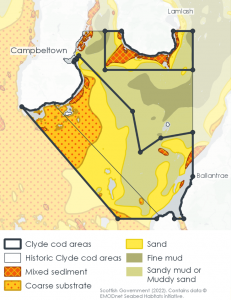 Since its introduction in 2001, the annual closure of the spawning ground has included exemptions to allow Nephrops trawlers, creels and scallop dredgers to continue to fish in the closure areas, due to the low numbers of cod that they catch. However, despite the ongoing seasonal closure, the stock has shown little sign of recovery.
While spawning, cod are extremely vulnerable to fishing activity. They are focussed on mating, and the males are unwilling to leave their hard-won mating grounds (or "leks"), so both sexes are less likely to try and evade oncoming fishing gear which means that mating adults are at greater risk of being caught. In addition, physical disturbance within the relevant areas of the Firth of Clyde during the mating period will disrupt the mating activity and potentially destroy the lek areas, and cod so disturbed may not return (and therefore may not spawn that year). If the stronger males are caught or disrupted leaving the weaker males, those males that remain may not be able to attract females. Moreover, stressed males are less likely to initiate mating. Noise may also disrupt mating, with females potentially unable to hear mating calls (Slabbekoorn et al 2010). Removal of all fishing activity within the closure areas should significantly mitigate these risks.
Scientific research around this topic suggests that any fishing activity within 10 metres of the seabed (which would include trawling, dredging, diving and creeling) has the potential to impact on cod spawning activity. This scientific evidence was the basis of similar fishing closures in the North Sea.
Removal of the exemptions will also create consistency with management in other areas, including the UK National North Sea Cod Avoidance Plan, which covers closure areas for all gear types (excluding pelagic), and the recent emergency Marine Protected Area (MPA) designation in certain areas of the Inner Sound and related Marine Conservation Order, which includes prohibition on creeling in order to protect the critically endangered flapper skate nursery area.
This decision aligns with the commitments in the policy programme of the Bute House Agreement between the Scottish Government and the Scottish Green Party and our shared aim to restore marine habitats in Scotland's inshore waters.
Background 
The Scottish Statutory Instrument and more information is available to view on the Scottish Government website.
Clyde cod reports
These reports have been collaboratively produced by The Scottish Oceans Institute (University of St Andrews) on behalf of the Clyde Fishermen's Association, and have been shared with Science colleagues at the Marine Scotland Directorate of the Scottish Government.
The publication of these reports was delayed as the result of unforeseen events. These included dealing with the aftermath of Brexit and the ongoing challenges to the fishing industry as a result of the Covid-19 pandemic.
The surveys were carried out in an exploratory spirit to look at gathering baseline data. The report's authors are clear throughout that they did not intend the surveys to be used as the basis for advice, but rather as part of the development of a consistent and reliable baseline survey method for Clyde demersal fish. It is hoped that work in the Firth of Clyde will progress in future in order to continue to develop a baseline.
Tags: Clyde cod, Cod spawning closure, fisheries, fishing
Comments