Participation
Democratic Sector Day
March 6, 2015 by Christian Storstein No Comments | Category Democracy
Yesterday I joined a whole lot of interesting and passionate people at Democracy Sector Day, organised by Oliver Escobar and colleagues from What Works Scotland.
The day was kicked off by our Minister for Local Government & Community Empowerment Marco Biagi. He talked about the SG's commitment to giving more power to communities, emphasising that time is right and 'wind is behind citizen participation and democracy'.
Democratic Sector Day by @WWScot looking lively. Pleased to help open this day on participatory democracy. #DSDScot pic.twitter.com/DswnbpffC8

— Marco Biagi (@MarcoBiagiMSP) March 5, 2015
The first part of the day focused on what a participative democracy looks like, and what conditions need to be put in place to make it happen – no mean feat. The chat on our table was wide ranging and so interesting that I neglected to take many notes. A lot of what we talked about dealt with accountability – who becomes accountable for policies and legislation if the power to create these things is devolved? Conditions-wise there was a recognition that there existed a real dichotomy between the new and emerging networked-society and the more hierarchical structures of government. How can they interact in a meaningful way when you take into account these fundamental differences? A culture change is needed, but as Willie Sullivan, Director of ERS Scotland sagely noted, 'culture eats strategy for breakfast'.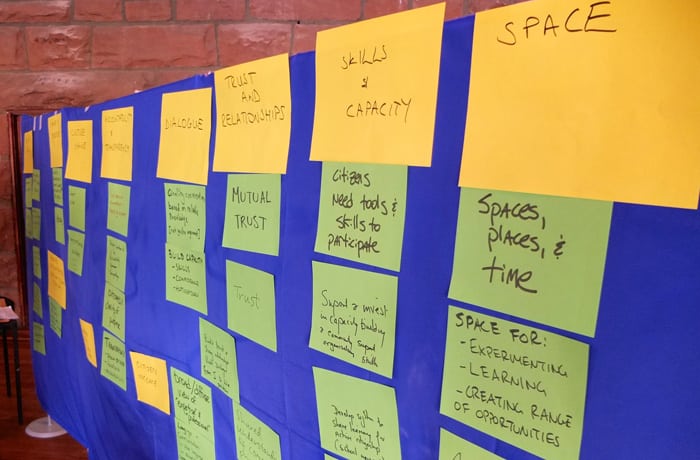 After lunch, Bruce Ryan and I both bid for a session on Digital, so decided to to team up. There was a great mix of people at our session. I think we all agreed that there was a healthy landscape of digital participative tools out there, developed by both the private and public sector, but that there was a disconnect between these two worlds. It is hard for people to know which tools works best for what outcome in this crowded marketplace. We thought that some online resource that pointed people in the right direction would be useful.
.@crunchity & @myceliumme_CC running a session on digital participative democracy #DSDScot pic.twitter.com/auVNyJfttT

— Demsoc Scotland (@DemsocScotland) March 5, 2015
The other main point was that in rushing towards this wonderful new digital future, we need to make sure we don't leave anyone behind. While its cheaper and easier to carry out transactions online (in the main), we can't penalise people for not being able to do so.
Unfortunately, running a session meant that we couldn't join any of the other discussions. Oliver and co are going to share the feedback from those sessions, and when they do we will put a link up here and on Twitter.
Overall a good event and I hope we can continue the conversation, if not in person, then online.
Tags: community empowerment, Democratic Sector Day, Local Governement
Comments