Participation
Walking the talk – our progress on digital engagement projects
May 18, 2015 by Leah Lockhart No Comments | Category Our work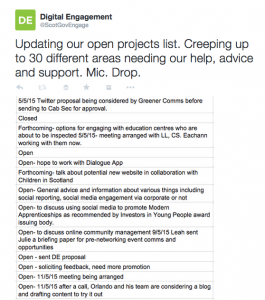 Updating our projects spreadsheet last week made us aware we are sitting with quite a lot of pretty diverse open projects. This is great because it means word of us acting as an internal digital engagement consultancy is finally getting out there and boy oh boy do people like the offer. There is a serious push for better engagement generally from Scottish Government (this includes internal and external engagement) and the digital aspect is a very new area to so many people.
We have *a lot* of meetings and in fact we're trying to work out a way to put the brakes on so many meetings, catch up with our open projects, cull where necessary and then pick up consultations again. Meetings are disruptive, especially consultation type meetings where the people you're meeting aren't quite sure what they need or what their outcomes are yet so there isn't much that can be done immediately to action anything. Then there are delays because of the amount of discussion teams or project areas want to have amongst themselves about any recommendations we've made. So while we are frustrated there isn't a lot of activity happening with the 30-ish open projects we have, most of the time we understand our recommendations are a major change in the way people currently work and change happens slowly, especially in government. In the next couple of weeks we have two projects that should be going live with some kind of digital engagement activity. Baby steps.
There are different reasons why progress is slow. Most common at the moment are resource and fear. The two are linked in that we're seeing a lack of take up in the offer of working with us to build capacity within a team and really bake in the digital engagement aspect of work. People are used to hiring in this kind of work- online community management and digital engagement- and that is a default mode we are trying to push back on.
Affecting change in a large organisation isn't quick and it isn't easy. As part of our wider Digital Communications Team we will be rolling out a behaviour change programme from this summer and we will keep you updated here about how that is impacting the progress of our work.
Tags: behaviour change, consultations, digital engagement
Comments