Participation
Revamped intranet wins global award
September 21, 2017 by Jacqui Randle No Comments | Category Our work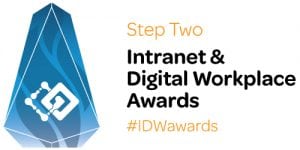 Our small but perfectly formed intranet team is on a high.
The newly revamped Saltire has scooped gold in the international Step Two Intranet and Digital Workplace Awards, making its mark alongside heavyweights like VISA, Virgin Trains and UNICEF.
I've just started in the team, with responsibility for our digital communications behaviour change strategy. My colleagues might be a bit shy about blowing their own trumpets, but as a new team member it's safe for me to say that this award is the culmination of years of sterling effort from a group of folk who are passionate about meeting user needs and making our intranet thrive.
The judges agree. They've described Saltire as 'an excellent example of a public sector intranet moving towards a digital workplace' and 'a good example to follow in this era of doing more with less'.
They praised the clear structure – which works for the Scottish Government and our seven agencies – as well as the opportunities for users to provide feedback.
They also liked:
our homepage apps, which are helping us to move towards a digital workplace and driving efficiencies
the strong focus on the value of content, with a centralised publishing model to ensure content is delivering benefits and dramatically reducing the number of pages
our emphasis on continuous improvement which has helped to drive user engagement
our shared service model with flexible branding, information architecture and sharing of content to effectively support eight separate intranet experiences across core Scottish Government and its agencies
So what's next?
The team's working on more improvements, including a blogging platform, an annual leave tracking app and a help microsite. These developments all respond to user feedback and will put Saltire at the heart of our digital workplace, helping people to connect and collaborate more effectively.
That's the big thing that I want to tackle. We've got the right tools, but we need a cultural shift to allow people to use them to best effect. Which is why we've made behaviour change an integral part of our intranet strategy, and are working to improve employee engagement through digital channels.
Tags: award, digital engagement, digital workplace, emplyee engagement, intranet, Saltire
Comments