Participation
11 things I learnt at #commscamp
July 19, 2017 by Christian Storstein No Comments | Category Event
After reading the excellent posts on #commscamp by Dan (23 things), Steph (20 things), and Paul (10 things) I thought I'd choose 11 things I have learnt at commscamp – partly in homage to the brilliant Burnistoun sketch (feel free to Google it).
Here goes:
I know that GDPR (General Data Protection Regulations) is coming in May 2018 but haven't fully come to terms with its implications. We need to make sure we know all the data we hold, where and in what format.
Thanks to Esko, I am now going to find out more about 'algorithmic angels'.
Breaches under GDPR are going to be extremely punitive.
There is a real opportunity for all government and public sector teams to work together to address GDPR, not least on developing good internal comms
That storytelling is an important function of every comms department, and that we can do a lot more to highlight the good work colleagues are doing
That in order to do storytelling well, you need to empower someone to look at the whole picture and be given the time and space to bring together the right content
That Google cardboard is a lot of fun, and it has interesting educational applications.
By 2019, 80% of global Internet consumption will be video content. Which means those of us that started in an industry dominated by the written word will have to be a whole lot better at the moving image.
That video captions are important for increasing views, not just to those with hearing impairments, but for those watching video on a busy bus or train who have their phone on mute
Balti, in Birmingham, is a wonderful thing
That the reason the public sector is wary of using Facebook Groups is because it requires we use our personal accounts, and that can mean we miss out on some valuable engagement opportunities
We all had to bring along a piece of 'tat' to be raffled off at the end of the day, as well as some cake. Each slice of cake purchased bought you a ticket for the raffle and the money went to #Stuff4Steph. Here is the tat table heaving with treasure: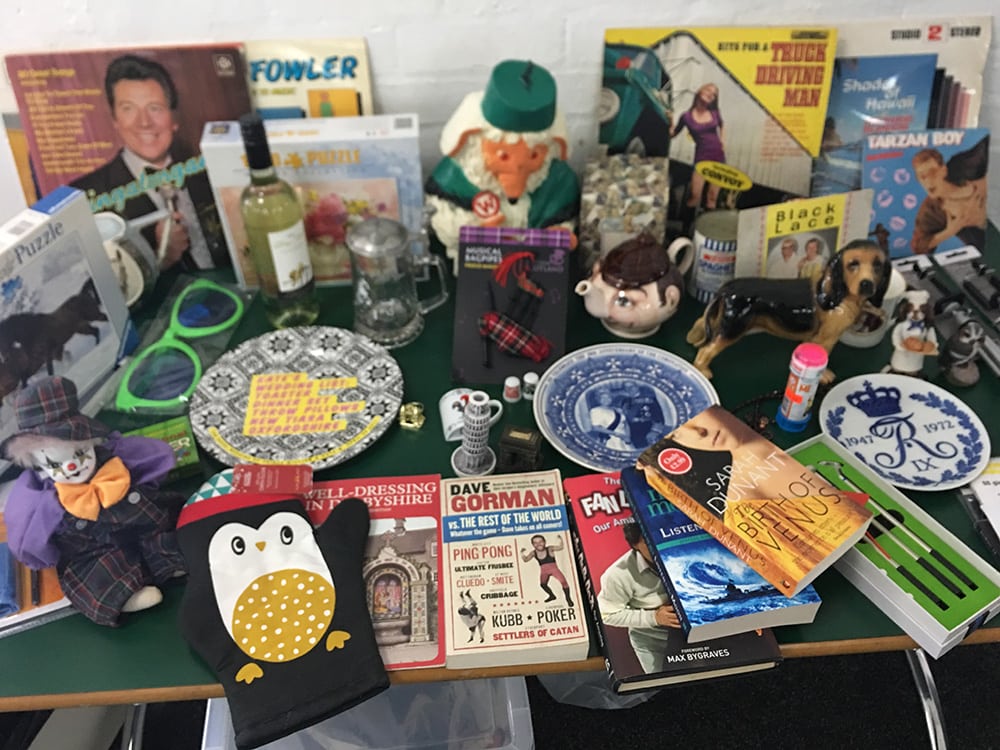 Although I was keen to win something, was thankful not to have to drag a large porcelain Meerkat on the train back to Edinburgh. I did, however, win some nice baking goodies for my homemade brownies.
Dan, Emma and their merry band of volunteers should be extremely proud of a brilliant day.
I see they have already announced next year's date (July 12, 2018). Too early to book a ticket?
Follow @commscamp on Twitter
Tags: commscamp
Comments