Planning and Architecture
Planning Delivery Advice: Housing and Infrastructure
February 17, 2016 by planningarchitecture No Comments | Category Housing & Infrastructure
Purpose of the Advice
On 17 February 2016 we published Draft Planning Delivery Advice on Housing and Infrastructure. The main purpose of the advice is to assist in the preparation of development plans by helping to provide clarity on how housing and infrastructure requirements can be clearly identified and programmed for delivery.
The advice builds on the Planning for Infrastructure Research Project (August 2015) and the Joint Housing Delivery Plan for Scotland (June 2015). It was also informed by nine stakeholder workshops that were held in October and November 2015.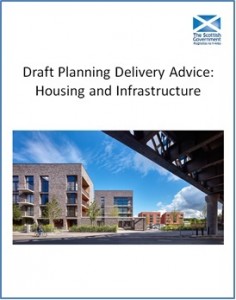 Content of the Advice
The advice covers 3 main sections:
Development Plans That Deliver
Planning to Deliver Homes
Planning for Infrastructure
We have included a number of appendixes and annexes which focus on infrastructure, development plans and affordable housing. To support this we have also published two templates Call for Sites and Action Programmes which can be used by planning authorities.

Use of Examples
We are aware that good practice is happening and are keen to share this more widely. The advice contains a number of examples which were brought to our attention during the stakeholder workshops. These highlight approaches that have been taken by planning authorities, developers, housebuilders and infrastructure providers to help assist with housing and infrastructure delivery.
Your Views
Your views on the advice are important to us. We are seeking comments until 31 March 2016. Please let us know whether you support the advice or feel that amendments are needed. Please send your comments to: deliveryadvice@gov.scot
Simon Pallant
Tags: Development Management, development planning, planning, planning advice, planning architecture blog, planning blog, Planning Delivery Advice Housing and Infrastructure, planning guidance, SAQP 2015, scottish government, scottish government Development management, scottish government development planning
Comments