Rural and Environment
Action on single-use items
May 30, 2018 by Roseanna Cunningham MSP No Comments | Category Environment, Marine
The Scottish Government is determined to lead by example when it comes to tackling the scourge of plastic littering our countryside and polluting our seas.
I am pleased the Scottish Government has taken this decision to remove the cups from its estate and would encourage other employers to consider what actions they can take to tackle single use-items. By removing single-use coffee cups from our main buildings, we will prevent 450,000 cups from being thrown away every year. That's enough cups to cover the distance between Edinburgh and Dundee.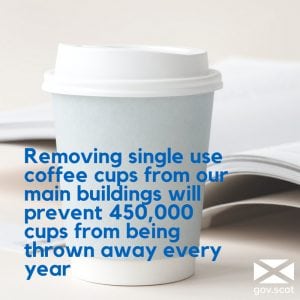 We support the EU's vision to reduce single-use plastics as far as possible and ensure any single-use.
plastics are easily recyclable by 2030. We are currently considering what other single-use items can be reduced and removed from Scottish Government buildings later this year.
Our newly appointed expert panel is considering what further action we can take to fight against our throwaway culture, and this will include looking at disposable cups and plastic straws as well as any potential implications for disabled people.
Tags: blue planet, cups, environment, waste
Comments