Rural and Environment
In the news: Marine litter
November 29, 2018 by Roseanna Cunningham No Comments | Category Climate Change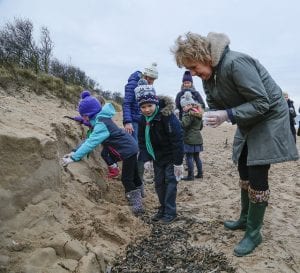 This morning the Marine Conservation Society published its 25th Great British Beach Clean – a mass participation beach clean and survey event – that found there's more litter on Scottish beaches than last year.
The beach clean, which took place in September, saw volunteers remove 2,503kg of litter from Scottish beaches. In total, more than 75,000 items were picked up along the 15,680 meters of surveyed coastline, and found that cotton bud sticks at their highest level for eight years.
Commenting on the 2018 Great British Beach Clean report, Environment Secretary Roseanna Cunningham said:
"I welcome this report which demonstrates that our global efforts to tackle marine litter have only just begun and would like to thank everyone who took the time to participate in a beach clean.
"Scotland is leading the way on this – we were the first UK administration to commit to introducing a deposit return scheme and a ban on plastic-stemmed cotton buds.  We are also promoting action to reduce, re-use and recycle; removing single-use coffee cups from our main government buildings and have established an expert panel to consider how we tackle our throwaway culture.
"Working collaboratively is key to reaching a point where we start to see a significant reduction in the amount of litter on our beaches. That is why we continue to support clean-up operations such as KIMO's fishing for litter scheme; work with MCS on the SCRAPbook project to identify litter hot spots; recently announced a £1 million innovation fund to directly support the removal of plastic from our seas; and continue to take action to prevent plastic waste from entering our seas in the first place.
"We know that it will take time before we see the results of these actions translated into results on the beach, but remain determined to tackle marine plastic pollution and clean up our shores."
Tags: beach clean, Great British Beach Clean, Marine Conservation Society, marine litter, marine plastic, plastic, Scotland, Scottish Government
Comments