Rural and Environment
St Andrews Day – 12 months as Scotland's National Chef, by Gary Mclean
November 30, 2018 by Alan Bannon No Comments | Category Farming, food and drink
A year ago I was offered the position of Scotland's first National Chef. This was a brand new role in Scotland but as soon as I was offered the position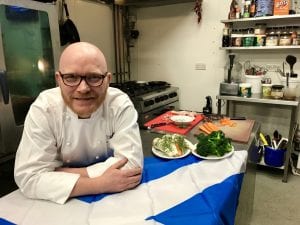 I gladly accepted. Why wouldn't I want to be at the forefront of something I love and am passionate about? Being National Chef to me and seeing the remit for the first time chimed with so many things I wanted to do and I saw this as an opportunity to carry many of them forward.
I am hugely passionate about encouraging understanding and use of healthy, sustainable and affordable food for everyone. I wanted to demonstrate the importance of cooking using locally sourced Scottish products; and to increase awareness of the objectives of Scotland becoming a Good Food Nation.
I love my job at Glasgow City College and they were supportive of this opportunity and there was no way I didn't want to take this forward.
In my first 12 months I have been able to take part and participate in many different events, engagements, meetings and I have enjoyed the challenge of each.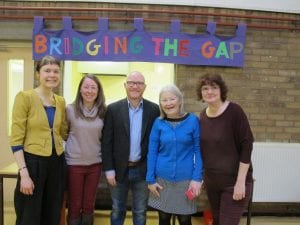 Back in January I visited the 'Bridging the Gap' project in Glasgow who are doing amazing work working with young people and families.
'Centrestage' was another project I enjoyed. This was run really well and it was interesting to see how they use fun and food to bring people together to embrace the energy of different communities.
'Food for Thought' was another campaign I was happy to help with: it's a government funded program for primary schools to access money and expertise to help with food and health education. I just love this program and to see the young kids having fun with food is brilliant.
I also visited several school including Knightsridge Primary in Livingston, Kilsyth Academy and Linlithgow Academy. All are doing great work with children and young people to help them cook and understand about food. I am hugely passionate about education and teaching so it was great for me on a personal level to be at the schools.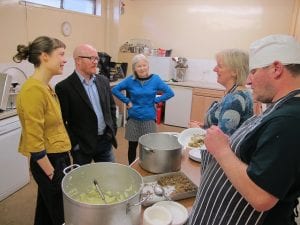 Another highlight was when I wrote the menu for an event at Edinburgh Castle in September, as part of National Food and Drink Fortnight. I love the castle and have taken my children there many times. I did enjoyed working with the Castle chef on writing the menu and getting behind the scenes of one of Scotland most iconic buildings.
I was also delighted to cook for the First Minister at Bute House as part of the fortnight. This was a small event for guests in the food industry, and a lot of work, but it was great to meet everyone and we all had a good chat after the meal. The coffee and chat with the First Minister was really interesting.
I was also given the opportunity to go to Los Angeles for an international event to promote Scottish seafood. This was a lot of work but delivered to a great audience, and turned out to be a fantastic opportunity to showcase Scotland's amazing produce. The highlight from that visit for me was working with some amazing chefs and hearing about how excited they were to be working with such Scottish food.
With Christmas looming I can look forward to another busy few weeks before I finally have a break. But I have some Christmas recipes coming on social media shortly.
It being St Andrew's Day there's no better time to remind readers how lucky we are to have the quality of produce that we are able to enjoy from Scotland. This is a subject close to my heart: I always buy Scottish food whenever I can, and would encourage others to do so also.
This is just a snapshot of the schools, projects, competition, community groups and events I have been part of over the year. It has been very varied, interesting and I have met some inspiring people along the way. I am very proud to be Scotland's National chef and I look forward to seeing what more we can do in 2019.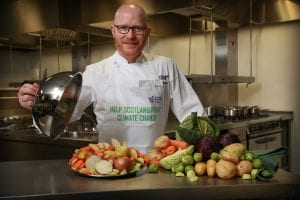 Tags: food and drink, gary mclean, national chef, st andrews day
Comments