Rural and Environment
This week: 31/5/19
May 31, 2019 by admin No Comments | Category Agriculture, Climate Change, Farming
Attracting new entrant farmers
More public sector land has been released to people who want to become farmers, following a Scottish Government scheme.
Around 6,400 hectares of land has been made available from public bodies such as Forestry and Land Scotland, Crown Estate Scotland, Scottish Water, Highland and Islands Enterprise, East Lothian and Highland Councils.
This latest release of public land will benefit up to 24 farmers and is part of the Programme for Government commitment to identify and make available land for new entrants to the farming industry.
Read more about land for new entrant farmers
Scotland Upland Sheep Support Scheme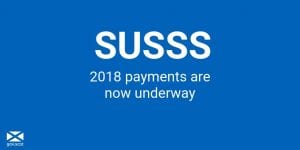 As the only part of the UK to provide coupled support for sheep and beef farmers, Rural Economy Secretary Fergus Ewing confirms that around 1,118 upland sheep farmers will benefit from payments worth around £7 million in the coming weeks.
Opening of Gardening Scotland
Gardening Scotland 2019 opened at the Royal Highland Centre Edinburgh. The national festival of flowers and outdoor living is celebrating its 20th anniversary.
Environment Secretary Roseanna Cunningham said:
"It was a pleasure to visit this year's festival and help Gardening Scotland mark its 20th anniversary with a celebration of nature and the great outdoors.
"Big or small, urban or rural, Scotland's green spaces and gardens are good for our health and wellbeing and also support for our unique wildlife, biodiversity and the wider environment. I commend Gardening Scotland on continuing to showcase their many benefits."
Bathing water quality
Environment Secretary Roseanna Cunningham welcomed improved bathing water quality around Scotland's coastline. Scottish Environment Protection Agency confirmed Scotland's bathing waters have been rated as "excellent" as the 2019 season begins.
Environment Secretary Roseanna Cunningham said:
I am pleased to see so many of our designated bathing waters meeting the strict environmental water quality standards, and that a growing number are achieving the top rating. While a trip to the beach may always be dependent on our unique Scottish summer, beachgoers can have confidence that our bathing waters are being constantly monitored and their quality ensured.
"Scotland's shorelines and waters are among the most beautiful in the world and significant progress has been made, in the space of just a few years, to improve standards still further. In cases where a lower rating has been achieved – often due to individual circumstances – SEPA and its partners are working through a comprehensive course of action to drive improvement."
Tags: climatechange, environment
Comments