Rural and Environment
This week: 24/5/19
May 23, 2019 by charlottebarbour No Comments | Category Agriculture, Climate Change, Environment
Croft Housing Grant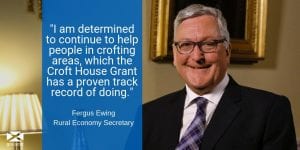 Rural Economy Secretary Fergus Ewing announced £350,000 under the Croft Housing Grant award to support crofters in remote areas.
Oyster Restoration Alliance conference
Natural Environment Minister Mairi Gougeon spoke at the Native Oyster Restoration Alliance conference in Edinburgh this week. Delegates from 15 European countries met to develop a blueprint for reef restoration.
In her speech, Mairi Gougeon highlighted the Dornoch Environmental Enhancement Project (DEEP), an initiative led by Glenmorangie whisky, Heriot Watt University and the Marine Conservation Society aimed at returning native oysters to the Dornoch Firth, improving water quality and biodiversity.
Native oyster re-establishment is also helping to tackle climate change, as oyster shells result in carbon sequestration, while oyster beds capture organic material which in turn locks carbon into the sediment.
Climate change
Environment Secretary Roseanna Cunningham welcomed the Adaptation Scotland publication providing new guidance for public sector bodies to mitigate the effects of climate change.
Community Growing Fund
Rural Affairs Minister Mairi Gougeon announced recipients of the £80,000 Community Growing Fund, helping local projects promote healthy and sustainable food production.
The Fund will help 30 projects establish and develop community growing spaces by funding the purchase of equipment, tools and plants. The grants will also help projects provide educational activities to increase awareness of sustainable food growth, as well as cookery skills.
The fund is part of the Scottish Government's vision for a Good Food Nation which aims to help increase understanding of where our food comes from, and support healthy eating and exercise.
Ms Gougeon said:
"The Community Growing Fund is supporting a diverse number of projects, helping them deliver a wide range of social, community, health and environmental benefits.
"This is a fantastic opportunity for these projects to instill the idea of healthy, sustainable eating in their local community, helping local residents – especially the next generation – learn more about the value of fresh, locally-grown food.
"As we face a global climate emergency, it is crucial that people understand the environmental benefits of growing your own produce and reducing food waste. It's a simple but effective way to help the battle against climate change and I'd urge everyone to seek out a nearby project to find out more."
Tags: climatechange, crofthousing, crofts, environment
Comments