Rural and Environment
This week: 14/6/19
June 14, 2019 by admin No Comments | Category Environment
Rural skills plan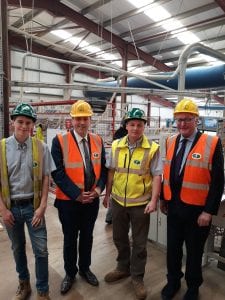 A new strategic approach to support the skills needs of rural Scotland has been launched by Rural Economy Secretary Fergus Ewing and Skills Minister Jamie Hepburn.
The Skills Action Plan for Rural Scotland aims to address skill shortages, talent retention and attraction, and demographic challenges, through enhancing work-based learning and increasing access to education and skills provision.
Speaking at Scotland's Rural College Barony Campus in Dumfries, Mr Ewing said:
"Faced with the fast-paced changes occurring in our workforce, it is absolutely vital that we ensure people continue to have the skills required to enable them to develop and succeed in their working life. The more skills an individual can develop and retain, the more opportunities that person will enjoy in life.
"With the rural economy being a major source of growth, nurturing key sectors such as food and drink, energy and the creative industries, this new approach will help individuals to develop the skills required for jobs across rural Scotland – both now and in the future.
"By better understanding the skills requirements of rural businesses, we can seek to provide more tailored, accessible education and training that will help to upskill and retain people in rural areas, which is essential for the future sustainability of our rural communities and businesses."
Read more about the rural skills plan
Net-zero
The UK Government announced that greenhouse gas emissions in the UK will be cut to almost zero by 2050.
In response, the Scottish Government is determined to stop contributing to climate change within a generation and acted on the advice from the Committee on Climate Change immediately by lodging amendments to the Climate Change (Scotland) Bill to set a legally binding target of net-zero greenhouse gas emissions by 2045 at the latest.
Read more about our net-zero commitment
Annual emissions
Commenting on the Scottish Greenhouse Gas Emissions Statistics 2017, Climate Change Secretary Roseanna Cunningham said:
"Actual emissions, which are what really matters for tackling climate change, reduced by 3.3% between 2016 and 2017. That is encouraging progress, particularly given the statistics cover a period prior to the current climate change plan and do not reflect many of the initiatives that have launched or embedded in the last two years.
"However, it is of course disappointing that the 2017 target has not been met, and that greenhouse gas emissions appear to have increased because of the technical adjustment made to the figures relating to the EU Emissions Trading System.
"Scotland already has the most ambitious agenda in the UK for decarbonising transport, including our commitment to phase out the need for new petrol and diesel cars by 2032. We have doubled our active travel budget, encouraging more people to walk and cycle, while Low Emission Zones will be in place in Glasgow, Edinburgh, Dundee and Aberdeen by the end of 2020.
"We are facing a global climate emergency, and we must all act accordingly. The Scottish Government is already looking across our whole range of responsibilities to make sure we continue with the policies that are working and go further, faster, wherever possible, and we've been clear that Climate Change will be at the heart of our next Programme for Government and Spending Review.
"These statistics show that there can be no room for complacency. If Scotland is to end its contribution to climate change we cannot shirk from the challenge, and we tackle it together. Difficult decisions will have to be made but Scotland is not in the business of taking the easy way out – we are up for the challenge".
Tags: annualemissions, deepseareserve, netzero, ruralskills, ruralskillsplan
Comments