Scotland's Economy
A Fairer Scotland for Disabled People
December 3, 2016 by Jamie Hepburn MSP 1 Comment | Category Economy, Employment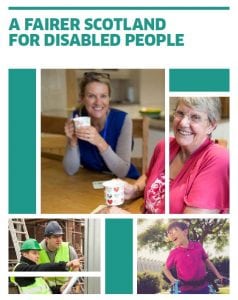 Making sure disabled people have access to decent incomes and fairer working lives is one of the key ambitions at the heart of our new disability delivery plan – A Fairer Scotland for Disabled People.
The plan recognises that even in the 21st century many disabled people are still unable to live their lives as they would want to because of the barriers in their way.
We want to tackle this, and I'm delighted that of the 93 actions in this plan, many will look at how we can create a fairer more equal work environment.
In essence we want to create equal employment opportunities and have greater awareness and understanding among employers, while also removing the stigma that so often exists.
We have a clear action on reducing by at least half the employment gap between disabled people and the rest of the working age population.  And we will work with disabled people's organisations and partners to develop a timetable to achieve that aim.  We will also take a number of other actions to address the barriers to work. While disabled people account for 20% of Scotland's population, they make up just 11% of the private sector workforce and 11.7% of the public sector workforce, we will work with both sectors to look at target setting and how we can redress the imbalance.
We want to give young disabled people the opportunity to reach their full potential and recognise the challenges they can face entering the workforce. That is why we will pilot a new work experience scheme to help with this transition into permanent employment, and will offer the highest level of Modern Apprenticeship funding to disabled young people up to the age of 30. We will also build on SCVO and Inclusion Scotland's pilot programme by providing disabled people with 120 employment opportunities in the third and public sectors and in politics between 2017 and 2021.
.@JamieHepburn announces details of the first contract awarded under newly devolved employment support powers #SGEmploySum16 pic.twitter.com/oYIusMieiw

— scotgoveconomy (@scotgoveconomy) November 23, 2016
We will use new powers over employability to support disabled people into employment. Our transitional service from April 2017 through Work First Scotland will allow us to take a fairer approach to that support and will help 3,300 disabled people.
Our actions will also provide employers with more support and look to raise awareness of issues with them, particularly through the Scottish Business Pledge and other employer networks.
I'm delighted that NHS Scotland will be delivering a Learning Disability Employment Programme with tools and guidance to support health boards to increase the number of people with learning disabilities employed by them. We will make sure all these points and the progress that we are making is put in the spotlight when we hold a major congress on Disability, Employment and the Workplace in 2017.
The actions in the disability delivery plan are wide and varied and show our clear commitment to making a real, positive difference to the lives of people with a disability.
I am confident this plan will drive forward the transformational change we need and I look forward to seeing how it can and will improve the lives of disabled people in Scotland.
Tags: disability, fairer scotland
Comments