Scotland's Economy
Scotland can benefit from lucrative decommissioning market – Paul Wheelhouse
December 1, 2017 by Alan Bannon No Comments | Category Business, Economy, Employment, Energy, innovation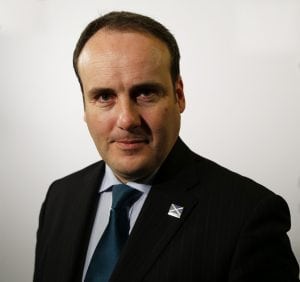 Paul Wheelhouse, Scottish Government Minister for Business, Innovation and Energy
"The North Sea's oil and gas reserves remain significant – even after decades of production and prosperity.
"There are up to 20 billion barrels of reserves still to be recovered and production is likely to continue for at least another 20 years. 
"While maximising economic recovery from the North Sea is central to the Scottish Government's energy policy, with associated investment in innovation, sustainability and health and safety, decommissioning is a growing economic opportunity for the Scottish supply chain. Over the next decade, our oil and gas sector must capitalise on a decommissioning market that is forecast to reach £17 billion.
"Oil and Gas UK's recent Decommissioning Insight report shows that the UK has the largest decommissioning market in the North Sea, with the 'well plugging and abandonment' phase of the process providing the largest category of expenditure in Scottish waters and the North Sea Basin. The industry body predicts that about £8.3 billion will be spent over the period up to 2025. This demonstrates the real opportunity for the Scottish supply chain.
"Many companies are already aware of the opportunities and actively engaged in decommissioning projects, and developing and enhancing their competitive capabilities. The recent arrival of the Buchan Alpha platform for decommissioning at Dales Voe in Shetland is a great example, but not the only one. 
"Scotland is building skills and expertise, with Scottish based firms securing more than half of the total value of contracts awarded so far from decommissioning activity from a range of activities such as well plugging and abandonment through to onshore dismantling and disposal.
"There's no doubt that Scotland's supply chain is doing well, but there is a huge amount of skills and experience in the sector which could yet be utilised for decommissioning purposes. In order to encourage that potential, the Scottish Government launched our £5 million Decommissioning Challenge Fund. This initial funding was designed to pump prime new decommissioning infrastructure and supply chain investment and further develop Scotland as a major centre for decommissioning in the North Sea.  
"The DCF has attracted infrastructure, feasibility, and innovation projects, across two calls in the year, with 37 separate and varied projects expressing interest in the Fund and subjected to a rigorous process of appraisal. The successful applicants to the first round of the DCF were announced on this week, to coincide with the hugely successful Offshore Decommissioning Conference 2017, run jointly by Decom North Sea and Oil & Gas UK. 
"The DCF will fund seven projects based in Dundee, Methil, Montrose, Ardersier, Stornoway, and Hunterston with a combined funding of £1.1 million. The projects were varied and included those seeking to develop 'piece small' and 'piece medium' decommissioning, a dry dock solution for floating infrastructure, and the installation of the UK's largest permanent quayside crane in Dundee. 
"A second call to the DCF closed in October and a number of innovative projects across the Scottish mainland, Orkney and Shetland have been approved by the Programme Board to undergo detailed due diligence, it is estimated that more projects will receive grant offers by the end of the year.
"The Scottish Government is seeking to further increase the ability of the supply chain to secure onshore decommissioning contracts, with the Programme for Government committing a further £7.5 million towards establishing an 'ultra-deep water port' in Scotland.
"Our revised and refreshed Oil and Gas Industry Leadership Group which met in Aberdeen last Friday will also have a stronger scope in terms of monitoring and supporting this sector. This group will be a vehicle that delivers action in areas such as an enhanced focus on support for the supply chain, for workforce engagement and on new areas of opportunity.    
"We, the Scottish Government, remain committed to working with this innovative and dynamic sector in the decades to come to provide the stability, support and incentives required for this industry to continue to be successful and to contribute to Scotland's energy needs throughout, and beyond, the low carbon transition."
Tags: decommissioning, energy, paul wheelhouse
Comments