Scotland's Economy
Labour Market Statistics: April to June 2018
August 14, 2018 by Jamie Hepburn MSP No Comments | Category Economy, Employment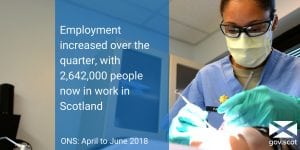 These are welcome figures. Scotland's economy and jobs market remains strong despite the continued challenges facing our economy as a result of Brexit uncertainty.
Scotland's employment rate has increased over the quarter, with 2,642,000 people now in work in Scotland. Our unemployment rate fell over the quarter to 4.2%. On female and youth employment, we continue to outperform the UK with an employment rate of 71.6% for women, higher than the UK rate of 71.0%, and a youth employment rate of 56.2%, higher than the UK rate of 53.8%.
We are investing a record £2.4 billion in enterprise and skills, £4 billion in infrastructure and delivering the most competitive package of rates relief in the UK, including the Small Business Bonus, which to date has saved Scottish firms almost £1.5 billion.
We continue to urge the UK Government to commit to remaining in EU single market and customs union to protect jobs and investment in Scotland.
Read a scottish breakdown of labour market statistics here.
Minister for Business, Fair Work and Skills Jamie Hepburn
Comments