Scotland's Economy
This week – 17/08/18
August 17, 2018 by taylorscott No Comments | Category Broadband, Broadband, Business, Economy, Employment
Scotland's employment rate has increased over the quarter, with 2,642,000 people now in work in Scotland. Our unemployment rate fell over the quarter to 4.2%. On female and youth employment, we continue to outperform the UK with an employment rate of 71.6% for women, higher than the UK rate of 71.0%, and a youth employment rate of 56.2%, higher than the UK rate of 53.8%.
Business and Fair Work Minister Jamie Hepburn said:
"These are welcome figures. Scotland's economy and jobs market remains strong despite the continued challenges facing our economy as a result of Brexit uncertainty. The Scottish Government are investing a record £2.4 billion in enterprise and skills, £4 billion in infrastructure and delivering the most competitive package of rates relief in the UK, including the Small Business Bonus, which to date has saved Scottish firms almost £1.5 billion. We continue to urge the UK Government to commit to remaining in EU single market and customs union to protect jobs and investment in Scotland."
 GDP Growth
GDP Growth and Quarterly National Accounts Scotland 2018 Quarter 1 statistics were published this week.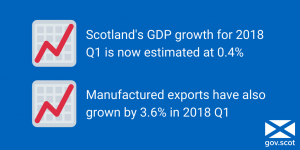 Key statistics in the publication are:
GDP growth for 2018 Quarter 1 is now estimated at 0.4%.
Since 2017 Quarter 1 GDP has grown by 1.3%.
Economy and Finance Secretary Derek Mackay said:
"It is hugely encouraging to see the Scottish economy grow by 0.4% in the first quarter of 2018, meaning that over the year since 2017 Quarter 1, the Scottish economy has grown by 1.3%.
"Figures for the first quarter of 2018 also show that manufactured exports, which make up around half of the total value of exports from Scotland to the rest of the world, have grown by 3.6% reflecting the strength of international exports to the future of the Scottish Economy."
Broadband roll-out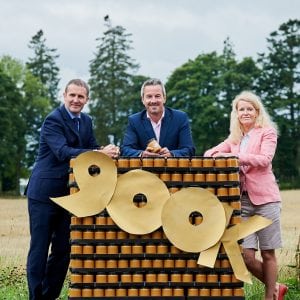 More than 900,000 premises across Scotland are now able to connect to fibre broadband thanks to the Digital Scotland Superfast Broadband roll-out. The programme reached the milestone this week meaning that more premises than ever before now have fibre broadband available to them.
Infrastructure and Connectivity Secretary Michael Matheson said:
"Fast and reliable internet is absolutely vital to communities across Scotland. It helps businesses stay connected with customers and colleagues, and helps families learn, work, play and shop.
"The Scottish Government is not stopping there. Our Reaching 100% programme, backed by an initial £600 million investment, plans to deliver superfast broadband access to every home and business in Scotland by the end of 2021 – the only part of the UK to do so."
Comments