Scotland's Economy
This week – 07/09/18
September 6, 2018 by taylorscott No Comments | Category Economy, Exports, Finance
Recess is over, Parliament is back for a new term and this week, we outlined our Programme for Government 2018/19.  Major investment in infrastructure, exports and legislation to underpin a Scottish National Investment Bank were at the forefront as the First Minister outlined our priorities for the year ahead. Read the highlights below:
Infrastructure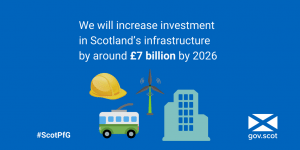 The PFG has a strong emphasis on boosting our economy. We will increase investment in Scotland's infrastructure so it is £1.5 billion per year more by the end of the next Parliament than in 2019-20. This increased investment – the most ambitious long term level of infrastructure spend that Scotland has ever seen – will drive connectivity, create jobs and deliver a long-term boost to productivity.
In total this means around £7 billion of extra infrastructure investment over the period, and will help us support faster broadband, improved transport and more low-carbon energy.
Scottish National Investment Bank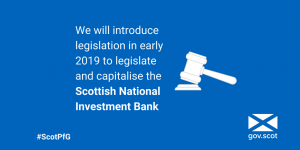 In a further transformational move, the First Minister announced that we will bring forward legislation in early 2019 to establish and capitalise the Scottish National Investment Bank. This week Economy and Finance Secretary Derek Mackay launched a consultation on how the Bank can support Scotland's economy.
Finance and Economy Secretary Derek Mackay said:
"The Scottish National Investment Bank has the potential to transform Scotland's economy. As part of developing the Bank and establishing its guiding principles, I want to listen to the views of people and businesses across Scotland to ensure the Bank's objectives and priorities for investment are ambitious for the future and create an institution with the right values, vision and purpose to transform our economy."
Export Growth Plan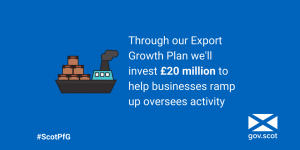 To support Scotland's growing exports market, the First Minister announced that we will invest £20 million in an Export Growth Plan to help businesses ramp up overseas activity. The plan will increase financial support for companies looking to enter new markets and set up a new scheme that will create business-to-business peer mentorships for new exporters to learn from established exporters.
HMRC Trade Exports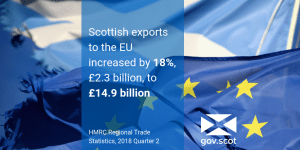 Statistics published this week also show that the value of Scotland's annual goods exports have increased by 7% (£1.9 billion) to £28.8 billion, a higher growth rate than the overall UK figure of 5% and the highest percentage increase of any UK country.
This was driven by increased exports of goods to the EU, up 18% (£2.3 billion) to £14.9 billion, and more specifically exports of oil and gas, up 29% (£1.6 billion) from £5.4 billion to £7.0 billion.
Cabinet Secretary for Finance, Economy and Fair Work Derek Mackay said: 
"Today's figures are again positive for Scotland, clearly showing strong export growth across a range of areas. The Scottish Government continues to do everything in our power to support the Scottish economy and grow exports further, in spite of the uncertainty caused by Brexit. An Export Growth Plan will see £20 million invested in a range of measures, including support for 150 businesses to increase overseas activity."
Read the Programme for Government 2018/19 here.
Comments