Digital
Earth Observation in the Scottish Public Sector
December 14, 2017 by Stewart Hamilton 3 Comments | Category Data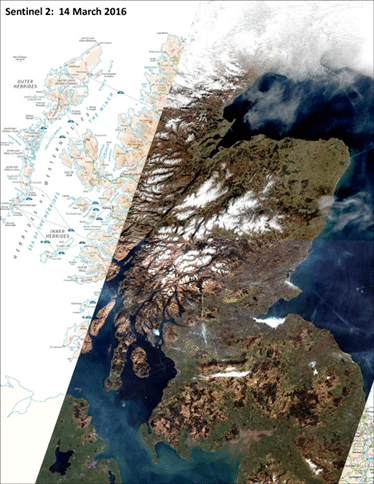 Guest post from Shona Nicol, Head of the Geographical Information Science & Analysis Team
The Geographical Information Science & Analysis Team sits within the Digital Directorate of Scottish Government. One of our key areas of work is leading on the Earth Observation (EO) policy for the Scottish Public Sector. This post will outline some of the key areas of work.
First, a bit of context setting. There are a wide range of potential EO applications in terrestrial and marine environments and Scotland has a strategic interest in making sure this potential is utilised. We want to ensure we are in a position to exploit the freely available outputs from the European Space Agency Earth Observation (EO) Programme (Copernicus), in particular Sentinel 1 (radar) and Sentinel 2 (imagery) satellites. Our EO policy must also fit within the broader Digital Strategy for Scotland, and in particular will help to deliver the following Digital Strategy actions:
• Drive the adoption of open data standards
• Make non-personal data about Scotland easier to access and use
• Deliver a series of Earth Observation projects
• Invest in new collective data agreements such as a national capture programme for LiDAR
• Create common digital platforms for services
• Make better use of cloud-based solutions
We have adopted a collaborative approach; central to this is the Scottish Remote Sensing Working Group (RSWG), which I chair, and includes members from a variety of agencies across the Scottish Public Sector.
Members of the team also represent the interests of the RSWG at the wider-UK groups including the Defra Earth Observation Centre of Excellence (EO CoE). The Defra EO CoE are currently developing an infrastructure to process, store and deliver the Copernicus satellite data and we are feeding in the Scottish requirements.
A key success of the RSWG so far has been the launch of the new cloud-based Scottish Remote Sensing Portal, designed in partnership with Joint Nature Conservation Committee (JNCC), which now hosts the open LiDAR data for Scotland. As well as making current data much easier to access and use, the portal in the longer term will encourage greater sharing of data by becoming the common platform for hosting remote sensing datasets held by the Scottish public sector.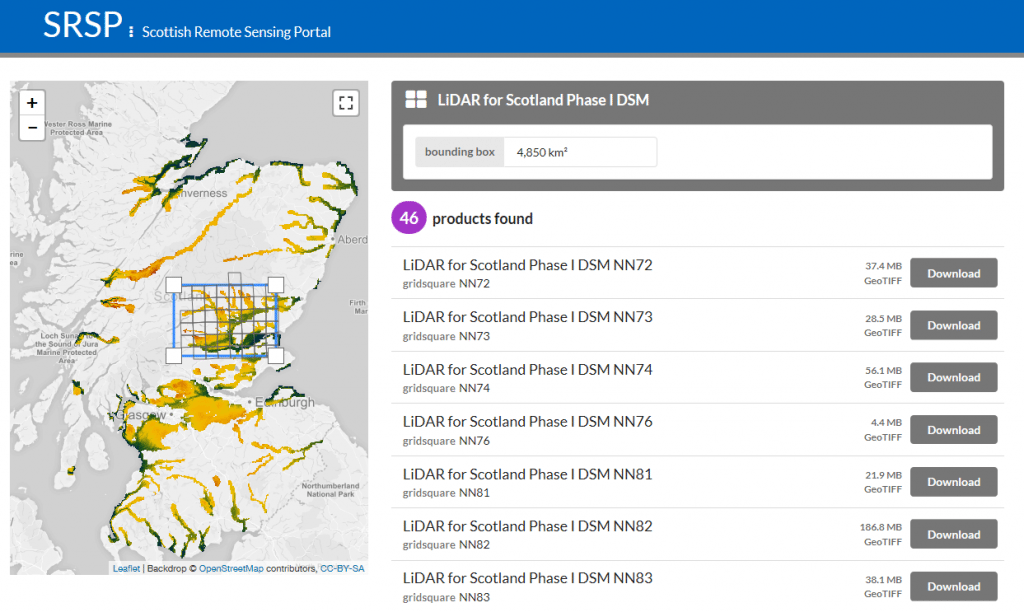 Another main area of focus for the RSWG currently is the development of a collective business case to capture LiDAR data under a single common licensing agreement. Our aim is to achieve 'economies of scale' by agreeing a specification for data capture and outputs, which will meet the needs of a variety of users and ultimately deliver on one of our main actions in the Digital Strategy.
There are also a series of important cross-agency EO projects, with, for example DEFRA, SNH, SEPA and FCS, being coordinated by members of the RSWG which demonstrate and promote the use of remote sensing data for a wide variety of applications. These include the study of diffuse pollution in Scotland's water environment, monitoring peatland condition, assessing wind damage in forests, mapping trees outside of Scottish woodlands, and creating a Scottish crop map.
We recently had very productive workshops with colleagues from the UK Space Agency who shared information on both the Space for Smarter Government Programme and the Disaster Charter, which allows us access to valuable Sentinel and other satellite data if areas are affected by natural or man-made disasters. Through this discussion we were also able to identify new potential opportunities for future uses of satellite technology, which had not previously been considered.
We hope to build further the Group's capacity and skills in remote sensing so we can make the best use of the increasing amount of remote sensing data which are becoming available. We will also continue our collaborative approach to the sharing of knowledge and resources, which will help to play a part in keeping Scotland at the forefront of the EO industry.
Tags: digital, earth, geographical, government, information, observation, scottish
Comments