Digital
Digital Strategy Consultation – No one left behind
October 19, 2020 by Stewart Hamilton No Comments | Category Digital Scotland, Digital Strategy Consultation
In a recent blog, we introduced the consultation for the new Digital Strategy for Scotland and highlighted why it is so important for people across the country to have their voices heard. This is the first blog in a short series taking a look at the key themes raised within the strategy and hear why it is more important than ever that no one is left behind.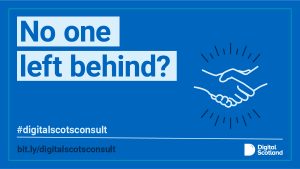 Geography, background or ability should not be barriers to getting online and benefiting from digital technology.
The pandemic has highlighted the importance of access to the internet, for information, access to services and the social links that are so important to wellbeing. However, it also exacerbated isolation and inequality and focussed attention on the consequences of the digital divide. Digital and data skills are vital to us all, and the internet is fast becoming a basic essential in our lives. We need to ensure everyone has these skills and access.
The discussion document outlines a number of potential actions to ensure no one is left behind:
• Digital inclusion that tackles inequality and promotes wellbeing: We will work to ensure that moving government and other services online reduces inequalities and does not exclude the least advantaged in society from the services they may need the most. This will require us to build on the Connecting Scotland programme to provide equipment and data packages and digital skills training to those in greatest need. We will also work with the third sector and others to provide training and support to ensure that people have the skills, confidence and information literacy required to make the most of being online.
• An education system that builds digital skills: We will need to continue to take action to address future skills demand and ensure that education equips people with the skills and capabilities they need for the future. Education will need to keep pace with the constantly changing world, which calls for new skills. The development of these skills will also need to recognise that the way in which people learn is changing as more courses are delivered flexibly on-line, so we will closely align with our plans for a new National Digital Learning Strategy to ensure a coherent digital learning experience.
• Deliver broadband coverage for all: We will do this through a combination of the Scottish Government Reaching 100% (R100) programme, considerable network upgrading by commercial providers and future UK Government investment. While telecoms is a reserved responsibility of the UK Government, the Scottish Government, recognising the importance of digital connectivity, has chosen to provide extra investment in certain areas to accelerate progress.
While there is still work to be done in ensuring we deliver services that work for all, it is also important to recognise progress that has already been made in this area.
The discussion document includes a number of case studies that showcase incredible working taking place across the country. The Scottish Government, in partnership with Scotland IS, the Scottish Council for Voluntary Organisations (SCVO), COSLA and Healthcare Improvement Scotland, set up Connecting Scotland in just four months. Nine thousand people at high clinical risk from coronavirus were given an internet connection, training and support and a laptop or tablet, so they could access services and support and connect with friends and family during the pandemic. Find out more about Connecting Scotland.
Another great example is a ground-breaking CivTech® challenge, developed in partnership with Stirling Council and NHS National Services Scotland. The aim of the project was to help young people start conversations about mental health, and provide personalised advice on where to access additional services and ongoing support. They secured the support of Edinburgh-based company Voxsio to develop a prototype chatbot called 'Allichat', accessible across social media platforms, to help young people get personalised answers to complex questions.
The coronavirus crisis has reminded us all of the social and economic consequences that can occur as a result of being digitally excluded. However, it has also highlighted that we do have the skills needed to digitalise services in response to external forces and that there is a clear positive impact of delivering joined up digital services. We hope that the actions laid out in the updated strategy will guide Scotland towards being a truly digital nation and one that is built around the needs of its people.
You can view the consultation document, and have your say, here. Keep up to date on @digitalscots, and we'll report back on what we've learned in the New Year.
Tags: CivTech, Connecting Scotland, digital, digital skills, Digital Strategy Consultation, government, scottish, strategy
Comments