Digital
Digital Strategy Consultation – Services working for all
November 2, 2020 by Stewart Hamilton No Comments | Category Digital Scotland, Digital Strategy Consultation
In a recent blog, we introduced the consultation for the new Digital Strategy for Scotland and highlighted why it is so important for people across the country to have their voices heard. This is the second blog in a short series taking a look at the key themes raised within the strategy. In this blog, hear why it is more important than ever to deliver services that work for all.
The coronavirus crisis has shown us the importance of creating and delivering public services that are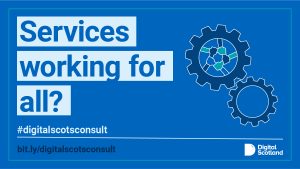 accessible to all, regardless of geographical location, technological limitations or any other external factor. People want and deserve digital services that are simple to use and have been designed with their needs in mind.
In order to deliver inclusive digital services, Scottish Government is working in collaboration with local government and businesses across the country. The discussion document suggests ways in which we can work in partnership with stakeholders to build an inclusive digital Scotland, from reforming key areas of government to make them more accessible to the general public, to adopting common digital and data standards across the public sector, to placing inclusivity at the forefront of digital design decisions. We in government recognise that in order to improve the lives of people in Scotland, we must work alongside them to design and deliver the services that they need.
While there is still work to be done in ensuring we deliver services that work for all, it is also important to recognise progress that has already been made in this area. The updated strategy includes a number of case studies that showcase incredible working taking place across the country. For example, Aberdeen City council has launched a chatbot using AI technologies which responds to queries on a number of their digital services, saving time and hassle for the customer. Another great example comes from the Scottish Cities Alliance. Local authorities up and down Scotland are using new technologies to introduce intelligent street lighting. This will now only improve lighting throughout cities and towns, but will also help the people feel safer in their communities and provide savings on annual energy consumption. Great work has undoubtedly already taken place in the digital landscape within Scotland, but there is more to be done.
The coronavirus crisis has reminded us all of the social and economic consequences that can occur as a result of being digitally excluded. However, it has also highlighted that we do have the skills needed to digitalise services in response to external forces and that there is a clear positive impact of delivering joined up digital services. We hope that the actions laid out in the updated strategy will guide Scotland towards being a truly digital nation and one that is built around the needs of its people.
You can view the consultation document, and have your say, here. Keep up to date on @digitalscots, and we'll report back on what we've learned in the New Year.
Tags: Digital Strategy Consultation, Public Sector, scottish government, services
Comments