Digital
Get involved with Services Week 2021
February 19, 2021 by Stewart Hamilton No Comments | Category Digital Scotland, Service design
Sam Ernstzen and Serena Nusing, service designers in the Digital Directorate, are bringing Services Week to Scottish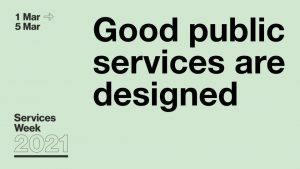 Government. Services Week is happening from 1st to 5th March and is open for everyone to participate and attend for free.
Services Week is a series of cross-government events initiated by Government Digital Services (GDS) that look at how we can work together to deliver end-to-end and user-focused services. The first Services Week happened in 2019 with around 55 events across the country. This year Services Week will be happening fully remotely and events will also be held by Scottish Government.
How Services Week works
The GDS team provides resources and a framework for the week, but the agenda will be created by the people, departments and organisations taking part in it. Services Week will include show and tells, Q&A sessions, workshops and networking events.
Some of the things we will talk about:
• designing the end-to-end service journey
• the value of user-centred service design
• case studies on design in government
• content design and research methods
How you can get involved
Any civil servant or public servant can get involved in Services Week. You can either attend sessions for free or you can organise and run your own event.
Services Week will be kicked off with an opening session on the 1st March at 10 am providing you with an introduction and an overview of the week. Every day at lunch time there will be a case study session presented by different parts of government talking about designing good services. Take a look at the full agenda for the week and join the sessions for free. For some of the session you might need to sign up in advance to attend.
If you want to propose your own session, or if you have an idea for a show and tell, please get in touch with us via email directly or plan your session via an open Trello board.
And you can also join in the conversation on social media using #servicesweek.
Service design is a relatively new discipline that has come to Scottish Government through digital transformation however its remit is far wider than digital. If you would like to find out more about service design and how it can help you please contact – Samantha.Ernstzen@gov.scot or Serena.Nusing@gov.scot
Tags: Digital Directorate, GDS, scottish government, service design, Services Week
Comments