Digital
Digital Strategy for Scotland – People and place
March 15, 2021 by Stewart Hamilton No Comments | Category Digital Scotland, Digital Strategy
Last week we launched A Changing Nation: How Scotland will Thrive in a Digital World, a new Digital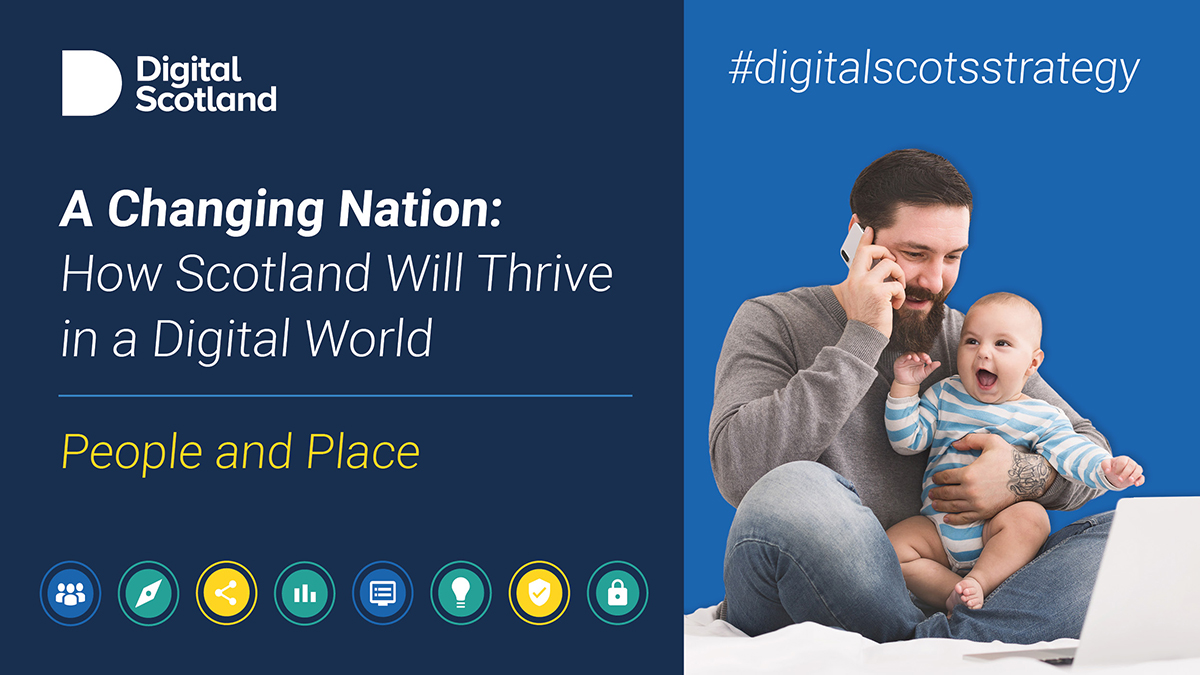 Strategy for Scotland.
The new strategy sets out the role digital will play in our recovery from coronavirus, and how we can work together to enable Scotland to fulfil its potential, facing the challenges and opportunities digital brings and ensuring the societal and economic wellbeing of our people and our country.
The Digital Strategy has three key themes: People and Place, A Strong Digital Economy and Digital Government and Services. This the first of three blogs setting out what these themes entail.
The People and Place section of the strategy establishes the fundamental principle that geography, background or ability must not be barriers to getting online and benefiting from digital technology. We will work to ensure Scotland is an ethical digital nation, one which is inclusive, fair and transparent. People must be able to access technology, understand its benefits and limitations, develop the skills they need to be safe and creative online and control how their personal information is used.
We will take a number of steps to ensure this happens.
We will bring the most vulnerable with us, and make sure that they have the skills, secure connectivity and devices required to fully participate in our digital nation, ensuring no one is left behind by the changes taking place.
To ensure inclusion, we will recognise that digital and data infrastructure is critical national infrastructure and that this includes far more than physical connections.
We'll ensure that every part of Scotland and every community within it can have access to good quality connectivity now and in the future.
We'll work alongside local government to enhance the democratic process so our communities are empowered to have their say about the services that matter to them.
We'll ensure that everyone has the skills they need to thrive in this new digital world, at every stage of life, and to do this, we will embed digital learning in every part of our education and training system.
We'll keep Scotland at the cutting edge of skills development in new digital technologies and rapidly increase the number of digitally skilled individuals graduating from our universities and colleges each year.
And we will agree on an ethical framework, to define the sort of nation we wish to become.
Ahead of producing the strategy, we held a consultation and received more than 200 responses from organisations and people in every area of Scottish society. The responses showed us that while it may be too early to understand the full extent of the economic and social shock of the pandemic, it has redefined our perceptions of "normal".
Scottish Government and Scottish Local Government therefore cannot, and will not, seek to simply return to previous notions of 'business as usual'. Together, we will rethink the way we work and support a country that balances and sustains economic, social and environmental wellbeing in a secure and resilient way. We will build a country that has a distinct vision of its place in the digital world.
For more information about the refreshed Digital Strategy, please contact our Digital Directorate Communications team: digitalcest@gov.scot
Tags: Digital Strategy for Scotland, People and place, scottish government, Theme
Comments