Digital
Digital Strategy for Scotland – A Strong Digital Economy
March 17, 2021 by deborahamzil No Comments | Category Digital Scotland, Digital Strategy
Last week we launched A Changing Nation: How Scotland will Thrive in a Digital World, a new Digital Strategy for Scotland.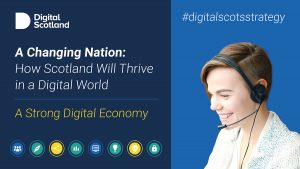 The strategy contains three key themes where digital will play a role in our recovery from coronavirus: People and Place, A Strong Digital Economy and Digital Government and Services, and we're publishing a series of blogs looking in greater depth at the part each themes play.
Last time we looked at People and Place and how vital inclusion, (whether physical connectivity or social inclusion) ethics and skills would be for Scotland to thrive in the digital world.
Today, we're looking at a strong digital economy, and how we will do two key things – help all businesses to become digital businesses, even those which are not yet online, and provide support to Scotland's tech sector.
The strategy recognises the potential for technology and digital ways of working to support Scotland's post-pandemic recovery and its environmental targets. It recognises that the tech sector needs very different support to that needed to get most businesses online. It makes clear that improved digital education for children and continued upskilling of the existing workforce will be crucial if Scotland is to keep pace internationally.
The strategy also aims to support the success of Scotland's tech industry as an innovative and global player, fostering a network of digital and data talent and attracting inward investment. Scotland's economy must adapt and seize opportunities to innovate ethically in an interconnected world where digital technology continues to disrupt markets,
and revolutionise industries.
To achieve this;
We make it possible for all businesses to be secure digital businesses, supporting them to adapt and be successful in the digital economy.
We'll create the conditions for technology businesses to grow, thrive, create jobs
and attract investment.
We'll build digital skills in the workforce to enable these businesses to recruit and thrive.
And we'll utilise the potential of national and local government within Scotland's digital ecosystem to stimulate and scale innovation in ways that meet public service and environmental challenges at home and abroad.
For more information about the refreshed Digital Strategy, please contact our Digital Directorate Communications Team: digitalcest@gov.scot
Keep up to date on all our Digital Strategy news by subscribing to our monthly Digital Scotland newsletter:
Digital Scotland Newsletter – Registration (mailchi.mp)
Tags: A Strong Digital Economy, digital, scottish government
Comments