Digital
Digital Identity Programme – Opportunity to Join our Online Stakeholder Event
March 19, 2021 by deborahamzil No Comments | Category Digital, Digital Identity, Digital Strategy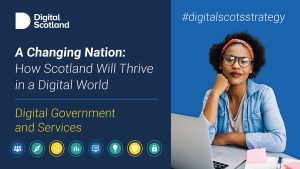 Susie Braham, Head of Data and Digital Identity Policy Unit within Digital Directorate tells us about plans to host an online digital identity stakeholder event.
Last week, we launched our new Digital Strategy: 'A Changing Nation: How Scotland Will Thrive in a Digital World'. It contains a commitment to introduce a digital identity service for Scotland, a standard approach for people to prove that they are eligible for public services or benefits online.
This digital identity service will:
• be a trusted and secure service
• help you get quicker access to public services online, by offering an easier way to prove who you are and that you are eligible for a service or benefit
• help you store or share your details, if you choose to do so
What's happening
We are making good progress with developing our identity service. We have completed extensive user research, developed a prototype and business case. We are now in the final stages of a procurement exercise to appoint a development partner for our 'Beta' project, which aims to develop the live service over the next 2 years.
National Stakeholder Event
We are planning to hold an online National Stakeholder Event on 19 May 2021, which will be an opportunity for people to:
• get an update on how the programme is shaping up
• see the latest prototype
• hear about our user research
• learn about approach we are taking to protect people's privacy
You will also get the chance to put questions and feedback to our panel.
In the spirit and practice of open government, places on this session can be booked by anyone who wishes to attend and hear what we are up to.
If you would like to attend, you can book your place for the session on 19 May 2021, 14:00 – 16:00.
Get in touch
Feel free to get in touch if you have any other feedback or questions: digitalidentityscotland@gov.scot
Tags: digital identity, Digital Scotland, scottish government
Comments