Marine
Protecting the Ocean Quahog
December 3, 2015 by Marine Directorate Communications No Comments | Category Collaborations, Compliance, Marine Directorate general, Marine Directorate Science, Research Vessel Surveys
The Ocean quahog, Arctica islandica, is a large marine bivalve that can live for over 500 years. This makes it one of the longest lived animals known to science. It is found around British and Irish coasts and lives in sediments from just below low water to depths of about 500 metres. They are often found with their shell buried in the sand with just their syphon breaking the surface. The syphon enables water to flow to and from the animal to bring it oxygen and food and to expel waste. Similar to trees the ocean quahog exhibits growth rings, in its shell, which makes it an ideal organism to investigate climate change.
There is a market for ocean quahogs particularly in North America, Iceland and Norway. However, it is so slow growing that it can take 50 years to reach market size. The species is at particular risk from bottom-towed fishing gears that penetrate the seabed and due to its slow growth, once populations have been reduced, they may take a long time to recover. To afford the ocean quahog some protection, it was designated as a Marine Protected Area search feature and it is the main protected feature of the East Gannet and Montrose Fields (EGM) and Norwegian Boundary Sediment Plain (NSP); both Scottish Nature Conservation Marine Protected Areas (NCMPA).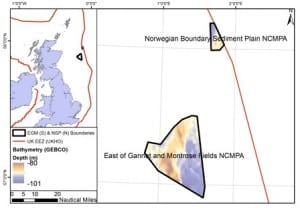 MSS and JNCC recently conducted a joint cruise to undertake a seabed survey of these two Marine Protected Areas. The EGM and NSP both lie within relatively shallow (100 m) sediment plains in the northern North Sea, shown in the map below. The primary objectives on both worksites was to collect data to form the first dataset of a proposed time-series against which to measure change in condition of the designated feature. Aggregations of the ocean quahog were found within offshore subtidal sands and gravels and offshore deep sea mud habitats. Staff on the MRV Scotia also collected in the region of 140 samples for infaunal and particle size analysis. This data will enable an assessment of the risk to the ocean quahog by human activity.
Further Information:
Comments