Marine Scotland
Recent updates to NMPi
July 12, 2017 by Marine Scotland Communications No Comments | Category Collaborations, Marine Planning, Marine Scotland general, Marine Scotland Science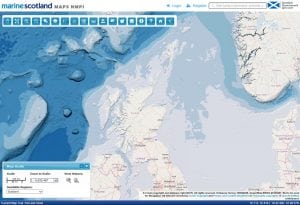 Some of you may be aware of Marine Scotland MAPS NMPi (National Marine Plan interactive), Marine Scotland's key tool for sharing data with stakeholders. It continues the innovation started by Scotland's Marine Atlas and its follow up e-publication. It's an online, interactive GIS-based tool allowing you to view different types of information, as map layers, at a scale of your choice.
Updates are happening regularly and in improvements made this week, users now have additional flexibility including:
Keyword search – NMPi layers will be tagged with keywords and a new dialogue box is used to filter on them. For now the only 'Vocabulary' available is 'layer properties'. This will allow users to identify, for example, all the layers that can be downloaded. Additional vocabularies will be developed in the future that will tag NMPi layers so allowing greater ease of finding data / information.
Improved links for data download – in future rather than download data from NMPi, links will be provided from where data can be downloaded. For Marine Scotland data this will generally be a link to the appropriate SSDI (Scottish Spatial Data Infrastructure, the Scottish INSPIRE portal) page where full metadata and files will be available. For 3rd party data (not previously available from NMPi) it could be to either that party's SSDI page or other web page where data are available. MS links are available straight away. Marine Scotland will be providing signposts to 3rd party data sources rather than providing the actual data. We will populate 3rd party links over coming months.
Links to Metadata – The Marine Scotland INFORMATION pages that support MAPS NMPi also contain some metadata for all the NMPi layers. These can now be accessed using the right click context menu and clicking on 'Show Metadata'
Refreshed icons – the opportunity has been taken to refresh the buttons on NMPI but their functionality remains the same.
Time aware – when first activating the time aware function now (right click context menu), the first time period of data will show on screen. Previously all the data showed until you clicked the time aware start button. If you still wish to see all the data for the whole period of data included in the layer, do not activate time aware.
Mobile site – small changes have been made to the way the layer control works on the mobile site which is accessed by users when on a tablet or phone.
Further Information
Comments