Marine Scotland
Scallop Dredging and Octopus Spotting
July 14, 2017 by Marine Scotland Communications No Comments | Category Marine Scotland general, Marine Scotland Science, Marine Scotland Surveys, Research Vessel Surveys
Last month our Ships Co-ordinator joined the Alba na Mara for a day to observe colleagues during the East Coast Scallop Dredging Survey 0917A. The aim of this visit was to get a better understanding of the scallop dredging process, the equipment and techniques used, and the challenges associated with this sampling method.
The feedback from the trip was that the scientists, skipper and crew aboard were really helpful; providing detailed explanations of procedures used and answering questions fully and with enthusiasm. The wheelhouse and deck operations, as well as the sampling processes, were expertly carried out and there were also some opportunities to discuss potential improvements during future operations.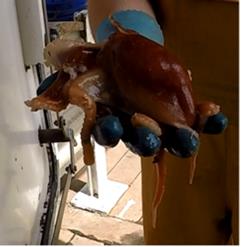 Scallop dredge hauls were made at the sites shown below on Figure 1 for 30 minutes each time. From each haul all of the scallops were measured to the half centimetre below and aged. Numbers and size distribution of commercial fish and shellfish species were recorded; along with scallop shell damage, and starfish numbers and species. Scallops were also collected for genetic analysis.
Tags: Alba na Mara, analysis, dredging, East Coast Scallop Dredging Survey, haul, octopus, scallops, ships, starfish, Survey, vessel
Comments