Marine Scotland
STEM Students becoming Careerwise
July 19, 2017 by Marine Scotland Communications No Comments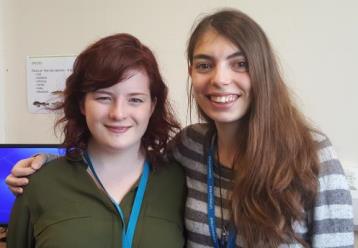 Always keen to invest in new talent, and promote women in science, Marine Scotland has taken on two students for two twelve-week placements under Equate Scotland's Careerwise scheme. Careerwise is a partnership between industry and academia to:
encourage the participation of women in STEM (science, technology, engineering and mathematics) areas;
increase awareness of STEM occupations as viable career options for women; and
increase employability skills in its participants.
Both placements are within the Fishery Analysis and Assessment Group of Marine Scotland Science; reporting on best practice for monitoring, control and surveillance for discards, and looking at the precision and accuracy of CCTV monitoring systems.
Welcome to both Kelly and Anastasia; we hope you enjoy your time with us and look forward to reviewing your findings and progress.
Tags: Careerwise, CCTV monitoring systems, Equate Scotland, Fishery Analysis and Assessment Group, Marine Scotland, Marine Scotland Science, STEM, women in science
Comments