Marine Scotland
Modelling the future – and the past
August 10, 2017 by Marine Scotland Communications No Comments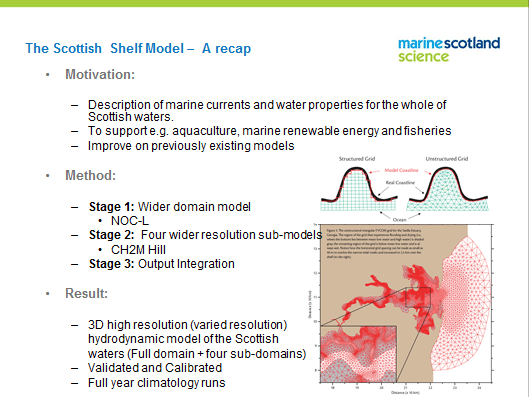 Hydrodynamic models are computer programs that simulate the movement, temperature, salinity and other properties of our seas. These models can complement observations to describe the physical marine environment in the past and the present, and provide forecasts.
Marine Scotland has led the development of a model for the Scottish continental shelf waters called the Scottish Shelf Model and in June, a workshop was held in Edinburgh to provide information about the SSM and its current applications, as well as providing an opportunity to get hands on experience using the model.
50 people from different sectors attended, including Universities, Scottish Natural Heritage (SNH), the Scottish Environment Protection Agency (SEPA) and industry.
With help from a grant received from MASTS, Professor Changsheng Chen from the University of Massachusetts was also invited to attend the workshop. Professor Chen led the development of the Finite Volume Community Ocean Model (FVCOM) – the model on which the SSM is based – and his was very valuable and meant that a lot of questions regarding FVCOM and licensing constraints could be answered directly by the developer.
The workshop started with overview talks about the SSM, FVCOM and benefitted from talks by people who use the SSM for various applications such as renewable energy and marine connectivity estimates using particle tracking. Training was also available both through demonstrations as well as through hands-on practical exercises, including computational requirements, compiling and running FVCOM and the SSM, data extraction and manipulation of model outputs, as well as passive particle tracking simulations using the SSM output. The practical exercises were based on the demonstrations and gave attendees a great opportunity to learn more about the model requirements and how to use the model output.
On the final day of the workshop, a whole session was dedicated to industry, especially the aquaculture sector. This provided an opportunity for learning between sectors – Government and Industry – and it identified the potential of using the SSM to force smaller scale models.
One of the main aims of the workshop was to provide something for everyone, independent of previous experience. As a result the workshop contained lots of information and training possibilities and the received feedback has been really positive.
Further Information
Tags: currents, models, oceanography
Comments