Marine Scotland
Celebrating Science and Year of the Young Person with Dr Nabeil Salama
January 25, 2018 by Marine Scotland Communications No Comments | Category Marine Scotland Science, Year of the Young Person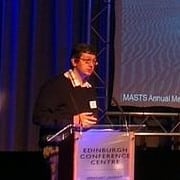 This is Nabeil, one of our scientists. When he's not leading a team of fisheries scientists or running around the lab working on wrasse or fisheries stock assessment, he's also just taken on the role of Marine Scotland Science's Outreach steering group coordinator.
What's your career path been – how did you get here?
For as long as I can remember I have had an interest in natural sciences and growing up on the Lincolnshire coast less than 500m from the sea, much of my curiosity was focused on coastal and marine environments. I spent quite a lot of my informative years rock-pooling, bird watching and, what now seems like an unhealthy fascination in, waiting to go and see the frequent stranding of marine mammals. To further my interest I studied sciences and mathematics at school.
My first experience of the world of work was helping out in the family fish shop where I learnt the time-honoured tradition of differentiating between cod and haddock based on morphological differences (a fancy way of saying I learnt to spot that cod had a white stripe and haddock a black stripe). These early mornings down at Grimsby dock-side fish merchants followed by filleting and boning ice-cold fish before sunrise provided me with an admiration for those involved in the fishing economy and made me realise that when it was my time to inherit the business, I was better placed running away to study biological sciences in the warmth and comfort of university.
During my undergraduate degree I had the pleasure of studying many aspects of population and community biology and the application of statistics. Marine science featured heavily and it gave me the opportunity to go on field trips to Millport and Scarborough, and I did my honours project on an aspect of coastal ecology. After my honours degree, I pursued a master's degree at Glasgow where I once again ventured back to Millport and then undertake my dissertation based at the Rowardennan field station on Loch Lomond. I then ventured south to Imperial College London to try my hand at a PhD in population modelling.
Between degrees I have worked quite a few interesting (and some less interesting) jobs including work as a bumble-bee research assistant, a brewery technician, university tutor, somehow getting involved with the fish shop again, running a festival business and postdoc-ing (is that a word?). A decade ago my wife took the reins and persuaded me it was time to make the move back towards her origins in the north-east, so with that I embarked on a career at the Marine Laboratory in Aberdeen where I have since used simulation and statistical models to investigate aquaculture and fisheries systems.
What made you decide to be involved in Outreach?
Warning: Clichés ahead: Firstly, it was through a sense, in a round-about way, of giving back to the volunteers and teachers who provided inspiration to me to study the natural world. Secondly, like most people I know involved with scientific research, I have a genuine love of knowledge and learning and I wish to share the pleasure with others.
In terms of outreach at the lab it just seemed a natural progression. I started volunteering with schools and community groups during my A-levels and then undergrad studies. It was unbelievably rewarding and it just became part of what I did as a scientist. I haven't found it a burden so I have simply continued. I think it is incredibly important to be able to communicate, what can be complex ideas, to a broad range of people and nothing helped me hone those skills than in front of inquisitive classrooms of children and young adults. I enjoyed science communication so much, I actually gained a place at teacher training college, but then I realised I would be just talking about other folks discoveries and the narcissist in me wouldn't allow that, I needed to talk about my own discoveries as well.
What do you enjoy most about doing Outreach?
There is nothing finer than holding the attention of a room of eager people and someone pipes up. Along the lines of "ooohhhhh, I get it now", or even better "Why…?" Actually even better than that is "that's just like…". I like to see it when people critically evaluate the world around them and use rational thinking to explain the things they experience.
I also like being able to demonstrate that scientists come in all sorts of shapes and sizes and backgrounds and that anyone can be a scientist or use science in their lives.
Would you encourage others to get involved in Outreach too?
Absolutely, Definitely. Make the time.
It is not only gratifying to see members of the public getting inspired and learning about the marine environment, and bringing on the next generation of scientists or citizens fascinated in the marine environment. It also provides great opportunities for individuals involved in outreach to personally develop. It improves your own ability to communicate, it provides an opportunity to plan and deliver a little-something, it helps reaffirm why we do what we do, it gives you the skills to think on your feet, it reminds you why you became a scientist. It also demonstrates our commitment to the people we are accountable to, and provides a way the public can access the work that they pay us to do on their behalf. It also gets you out of the lab in to some wonderful places and you get to meet some amazing people, both inquisitive students and dedicated teachers.
Further Information
Tags: children, Marine Scotland Science, Research Vessel Surveys, science, STEM, Year of the Young Person, YOYP
Comments