Marine Scotland
Celebrating our Most Excellent Colleague
March 29, 2018 by Marine Scotland Communications No Comments
Last week a number of us congregated in our Lecture Theatre to celebrate our colleague Dr Ian Davies receiving his very well deserved MBE. The MBE, or Member of the Most Excellent Order of the British Empire, is an award that recognises and rewards contributions to the arts, sciences, charity and welfare organisations and Dr Davies has certainly done that.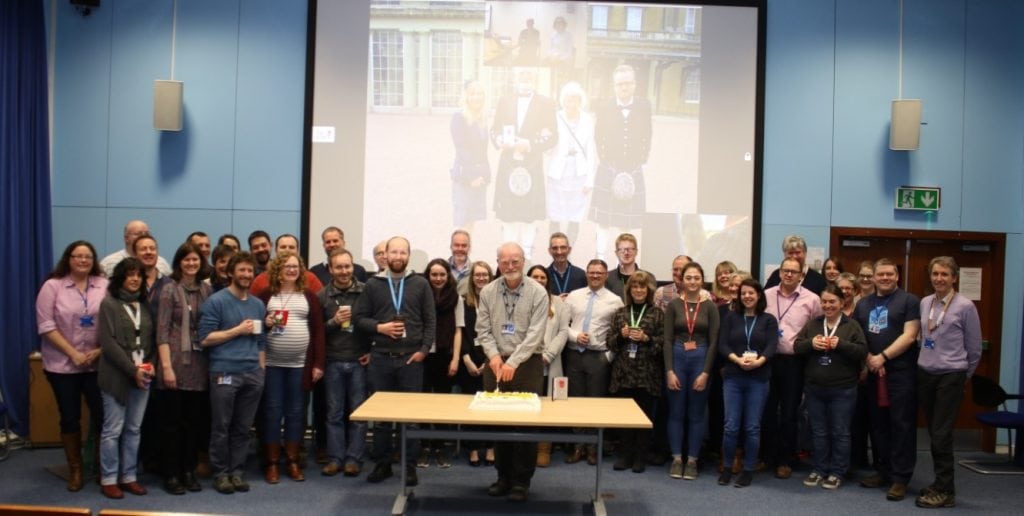 Dr Davies received his award for services to marine science, and to the voluntary sector at home and abroad. Explaining some of the background to the award Professor Colin Moffat, Head of Science and person responsible for nominating Dr Davies said: "Ian has contributed hugely to both aquaculture and marine renewable energy in Scotland over the years. With his wife Ruth, they founded a charity, Riverside Trust, and have run it together for more than 20 years. During this time, the charity has provided literature, community care, and community development in Romania, particularly with young people and young cancer patients. He is passionate about his work; both in marine science and his charity and we are very proud of his achievements".
Speaking to Dr Davies, we asked how he felt about receiving the award and what projects he had in the pipeline. Dr Davies replied that he was "astonished" to find that he had been nominated for the honour but felt "very proud and delighted" too. Some projects he has been involved in, through the charity, have supported children's camps in Romania, South Africa and Angola; training and development programmes; and construction and community restoration activities in Romania. Future work is likely to continue in the cancer hospital, a drug prevention charity, and running summer camps for village children.
Dr Davies was invited to Buckingham Palace to receive his award, earlier last week, where he was formally presented his award by Prince William. Here he is pictured with his wife Ruth, elder daughter Helen and youngest son Paul.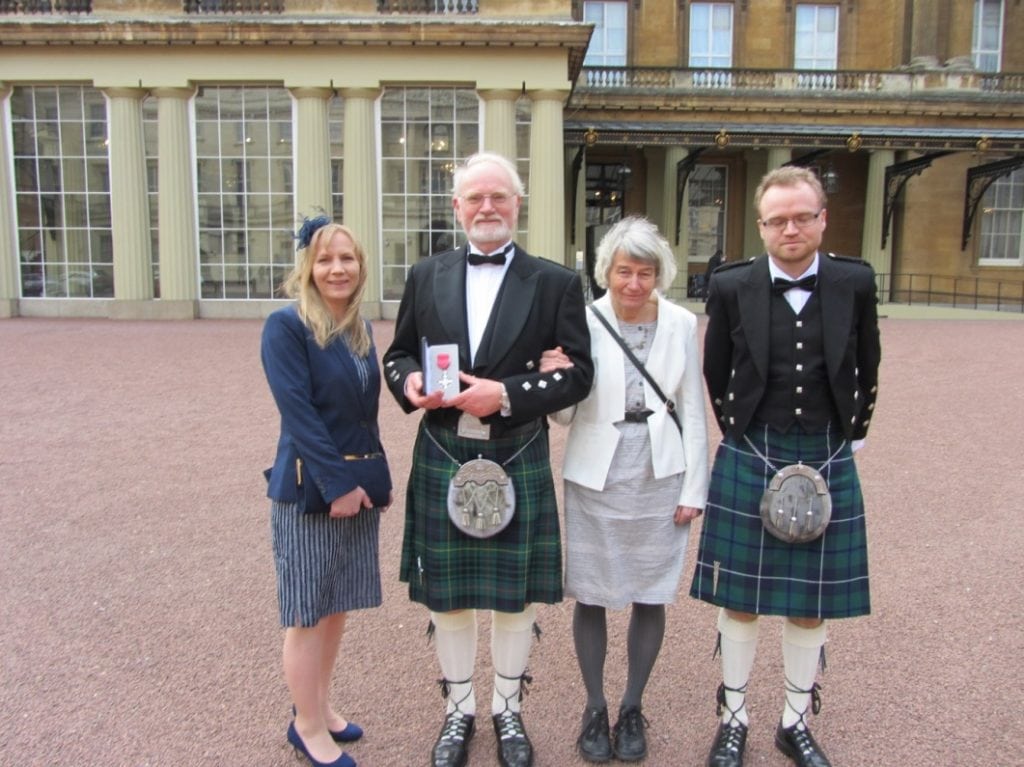 Congratulations and well done Dr Ian Davies and good luck with all your future projects!
Further Information:
Tags: aquaculture, award, charity, honour, Marine Scotland, Marine Scotland Science, MBE, Member of the Most Excellent Order of the British Empire, renewables, Romania
Comments