Marine Scotland
Celebrating the Year of the Engineer – Meet Matt Kinghorn
June 5, 2018 by Marine Scotland Communications 2 Comments
As we mentioned in our blog in January, 2018 is the Year of the Engineer as well as the Year of the Young Person. Over the course of the year, we'll be introducing you to some of our incredibly talented engineers, as well as showing your some of their work.
This month we've got something very special and a little different for you, courtesy of our net store engineering colleague and resident poet, Matt (on the right hand side of the photo).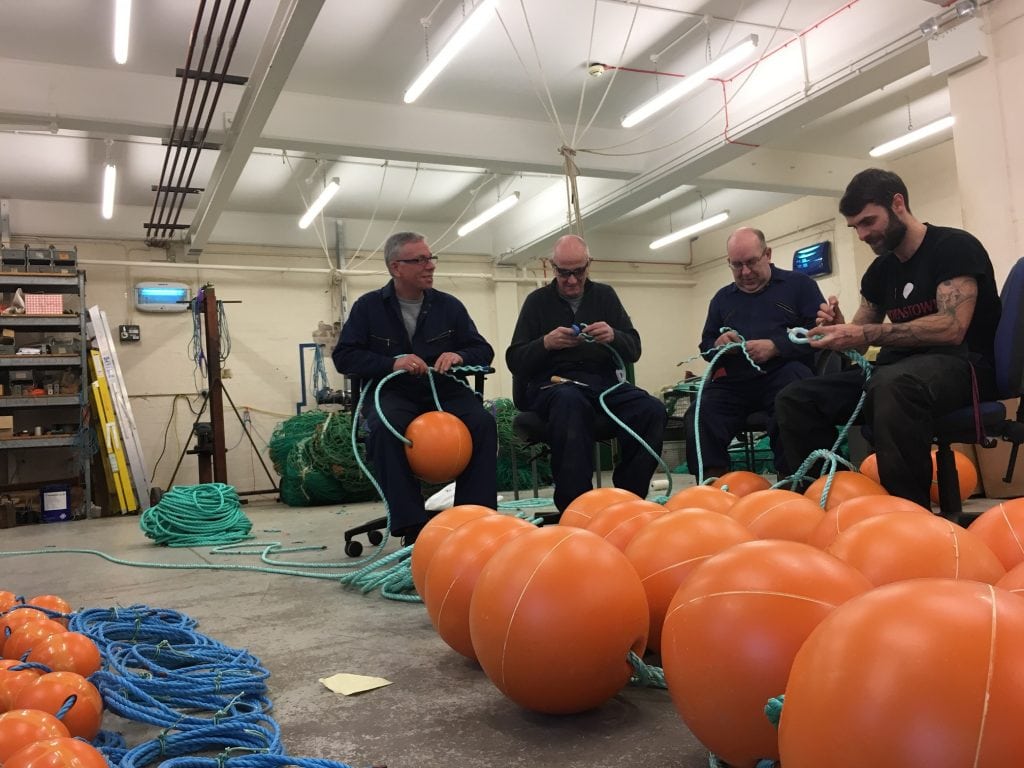 The shutter door rolls up, the lads are ready,
Their minds are focused, their hands are steady.
Lockers swing open, they pull on their boiler suits,
They grab their knives and needles and lace up their safety boots.
A fishing net in tatters strung up between the winches,
The lads exchange a laugh, not a single one flinches.
Another day on their feet, pulling and bending,
While expert hands are quickly mending.
Pittodrie discussed and stories fondly shared,
As section by section the net is swiftly repaired.
The phone rings, a wire has parted on the boat,
The lads grab their tools, their sandwich and their coat.
The rain is relentless, the wind is strong,
But with surgical precision the splice doesn't take long.
Back at the lab, the dredges are in a mess,
Soon though they are sorted without fuss or any stress.
The inbox pings, "I need a million moorings from a million coils of rope",
The lads just rub their hands, they know they're going to cope.
No break-ups, no affairs, no politics, no lies,
The shutter rolls down, they trade sincere goodbyes.
Four friends who happen to work together, nothing more,
On Victoria Road in the Marine Lab Net Store.
Tags: engineering, nets, poetry, research, science, technical
Comments