Marine Scotland
Scottish Ocean Climate Status Report 2016 published
July 4, 2018 by Marine Scotland Communications No Comments | Category Marine Scotland general, Marine Scotland Science, Scottish Coastal Observatory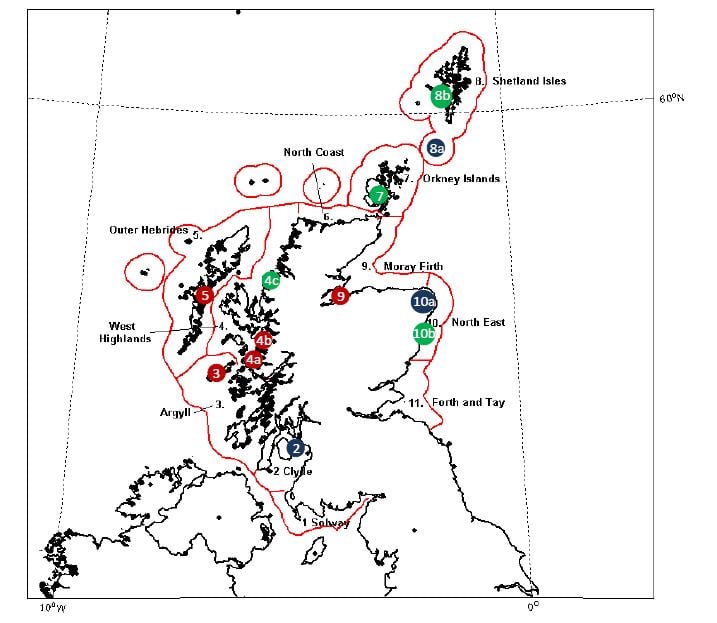 A new report by scientists in Marine Scotland that examines the variability and trends in the physical conditions of the seas around Scotland in the last decade and further into the past has been published.
Describing the conditions in 2016, the most recent year for which a full dataset is available, the Scottish Ocean Climate Status report shows that there are complex linkages between the ocean and the atmosphere so there are descriptions of a whole range of oceanographic, meteorological and riverine parameters. Datasets collected as part of the Scottish Coastal Observatory (SCObs) (detailed in the map above) and the Offshore Long Term Monitoring programmes were analysed, alongside acquired meteorological, river flow and modelled data, as well as global metocean ( meteorology and physical oceanography) indices. These can be used to investigate many aspects of general long-term change, as well as shorter-term variability.
The report presents information in relation to the Scottish Marine Regions, as well as larger-scale descriptions (including North Atlantic and global) in order to provide context-setting prevailing conditions. Hence the report contains basic information that will be needed by the regional assessments required under the National Marine Plan, as well as information relevant to the Marine Strategy Framework Directive and the various climate change related processes in Scotland, such as the Scottish Climate Change Adaptation Programme.
Around Scotland both air and sea temperatures have warmed at a similar rate to the global pattern of century-scale warming, as reported by the Intergovernmental Panel on Climate Change (IPCC) in 2014. This long term warming is associated with impacts such as rising sea levels, retreating Arctic sea ice and glaciers, and northwards shifts of marine species.
However, the century scale warming we are currently experiencing has not been constant, in reality. There is variability from year to year (inter-annual), from decade to decade (decadal) and between periods of several decades (multi-decadal), in addition to the longer-term trend. Some of this variability is seen just within our region, and some of the variability has been the same across the globe. At a multi-decadal scale, during the 1970-1980 to 2010 warming episode, air and sea temperatures across Scotland warmed at a faster rate than the global average.
The importance of observational time series in characterising long-term climate trends was noted by the Royal Society in a 2017 climate update report1, showing how valuable the long-term monitoring that MSS and others carry out both offshore and in coastal waters is.
1Royal Society (2017). Climate updates: progress since the fifth Assessment Report (AR5) of the IPCC.
Further Information
Tags: climate change, oceanography, sea
Comments