Marine
Storm Frank Makes its Mark in SCObs Monitoring Data
July 27, 2018 by Marine Directorate Communications No Comments | Category Marine Directorate general, Marine Directorate Science, Oceanography, Scottish Coastal Observatory
Aberdeen may be in the midst of a summer heatwave but scientists in Marine Scotland Science (MSS) have seen the footprint of Storm Frank while performing an in-depth quality check of data from the Scottish Coastal Observatory (SCObs) last week.
Storm Frank impacted Scotland from 28th – 30th Dec 2015 bringing wide spread flooding and destruction to many areas in Aberdeenshire. While sampling at the SCObs monitoring station 5 km offshore from Stonehaven had to be suspended due to high winds during this period, when the weather calmed down a clear impact of this storm could be seen when sampling resumed. The saltiness of the surface of the sea was reduced and the concentrations of nutrients (shown here by total oxidised nitrogen (TOxN)) increased as a result of increased river flows following the flooding. The sea became more turbid (measured by "Secchi depth" – a larger depth means we can see through more of the sea) as a result of high winds re-suspending sediment from the sea bed.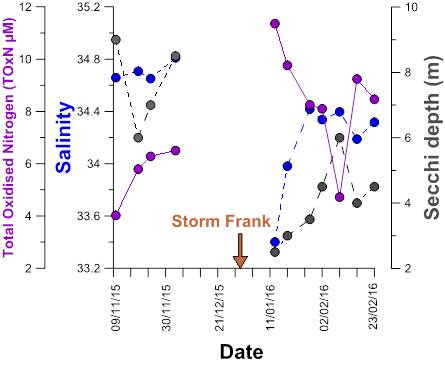 The SCObs site at Stonehaven is the most comprehensive coastal monitoring station in Scotland. Temperature, salinity, nutrients, phytoplankton and zooplankton have been collected weekly since 1997, secchi depths recorded since 2001 and carbonate chemistry measurements made from 2009. Data from this programme is increasing understanding of seasonal and interannual variability in Scottish coastal waters, fulfilling requirements for statutory environmental assessments and providing baseline information from which impacts of environmental change can be identified.
Article by:
Dr Eileen Bresnan, Jenny Hindson,
Margarita Machairopoulou and Pamela Walsham
Further Information:
Tags: coastal monitoring, environment, Monitoring, oceanography, research, sampling, science, Stonehaven
Comments