Marine Scotland
Celebrating Science and Year of the Young Person with Eric Dalgarno
September 20, 2018 by Marine Scotland Communications No Comments | Category Marine Scotland Science, STEM, Uncategorized, Year of the Young Person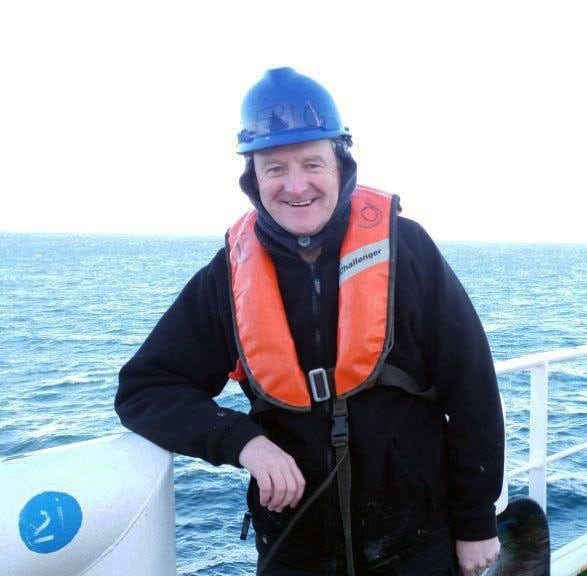 As we mentioned in one of our earlier blogs, 2018 is both the Year of the Engineer and the Year of the Young Person – and this blog is about one of our many colleagues who are inspiring the next generation with their Outreach work.
This is Eric, one of our Marine Environmental Chemists in our Marine Environmental Assessment Group. Read on to find out what he gets up to.
Who are you and what do you do?
My name is Eric Dalgarno and I do all the environmental monitoring work as part of the Environment, Monitoring and Assessment Group at the Marine Laboratory. Part of my work involves going on two sea trips a year. One in January to monitor the environmental state of the seas which involves fishing, sediments and water sampling which are then analysed for PHs, PPDEs, CBs and seawater nutrients. Then in September we have the deep water sampling trip. Both these trips involve going round the whole coastline and I prefer the September trip not just because of the weather but because of some of the strange things that we find.
Why is what you do important?
We keep a record of all these results every year to see what the changes in the sea are. We have kept records for quite a lot of years now so gives us a good indication of the pollutant levels. All the results are put into merman which is part of the Marine Atlas. One of the big things that we are currently doing is the microplastics which is all the small bits of plastic breaking down and for example microbeads from facial washes. This work involves monitoring the litter to find out how much is there and what is the predominant make up of it? Things overall are improving partly due to being able to find more of this type of pollution and also the outreach programmes which let people know what is out there and the effect it is having on the environment.
What's your career path been – how did you get here?
I started working at the MAFF Torry Research Station (TRS) in June 1978 which is now the new SEPA building in Torry. In 1996 I then moved over to the Marine Laboratory across the road once the TRS moved down to York. My job has changed over the years from working with fish factories, experiments on fish during and after smoking in kilns, fish more as food at TRS to now at the Marine Laboratory more chemistry and environmental work on fish. So more than just a swap from the English Civil Service into the Scottish Civil Service. But overall been a Civil Servant for almost 40 years!
If you weren't doing this, what do you think you'd be doing instead?
My family was from a farming background but never really fancy doing this. At school I enjoyed chemistry and biology so always wanted to work in a laboratory environment. In 1978 the oil industry in Aberdeen was only just really starting so might of looked for a job with one of the oil companies but very happy to have started working at TRS. Have always enjoyed lab based work.
What's your favourite fishy fact?
The fascinating fish that is found on the deep water September trip. With samples coming from over 2,000 metres below the surface where no light is, the variety of sponges and corals and occasionally unknown species. Many of the species have poisons on them or in them or even teeth so you have to be very careful when handling them.
And what about one fun fact about you?
Not really a fun fact but something I enjoy doing is to continue to embarrass my daughters even when they are in their twenties. I am also still a member of the Taste Panel after very many years of tasting and a final fact which is fun … I also really enjoy whisky… a lot! Finally a close colleague did comment on his driving being but not much fun!
What do you enjoy most doing Outreach?
Working with young people and encouraging them into science is so very rewarding.
Further Information
Tags: children, Marine Atlas, Monitoring, science, scientist, STEM, YOYP
Comments