Marine Scotland
OSPAR / MSFD
January 8, 2019 by Marine Scotland Communications No Comments | Category Marine Scotland Science, Research Vessel Surveys
Survey: 0119S Scotia Programme
Duration: 6-21 January 2019
Fishing Gear: BT 137 with Ground gear E
Sediment Sampling: Day grab and sieves
Litter sampling: Catamaran and neuston trawl
Water sampling: Aquatracka fluorometer, Seabird 25 and towed frame
Objectives:
To undertake water, sediment and biological sampling for the Clean Seas Environmental Monitoring Programme (CSEMP).
To collect water samples for nutrient studies as part of the Scottish Coastal Eutrophication Assessment Survey (SCEAS).
Monitor and record all litter brought aboard in all trawls. Sample water column and sediment for micro-plastic litter.  Collect fish guts and any other biota of interest for microplastic research.
If possible, deploy Aquatracka and Seabird 19 to collect fluorescence data.
Procedure: 
The vessel will depart Leith on 6 January and after all drills have been completed will head to the first sampling station.  The order in which the survey will be undertaken is weather dependent and will be decided in consultation with the Captain and Fishing Master.
Surface water will be collected for hydrographic nutrient studies (SCEAS) throughout the survey at fixed time intervals (every 30 minutes for nutrients, every hour for ammonia and every 12 hours for salinity and chlorophyll samples).  From the Forth to Berwick initially, north to Montrose Bank then following the sediment/fish sampling track.  Nutrient samples will be analysed onboard as far as possible.  Any remaining at end of the survey will be returned to the laboratory for analysis.
Fish sampling will be carried out at the Montrose Bank, Inner Moray, East Shetland, East Shetland Basin, Hebrides and Colonsay CSEMP sites (Table 1).
Sediment sampling will be carried out at the Montrose bank, East coast, Inner and Outer Moray Firth, East Shetland, East Shetland basin, Minch North, Minch South, Colonsay and Sea of Hebrides. Sediment sampling will also be carried out at the four CSEMP fixed sites (NMMP85 – North Minch, NMMP95 – Inner Moray Firth, NMMP105 – Outer Moray Firth, NMMP165 – Montrose Bank) (Table 1).
Sediments will be sampled for chemical analyses at all locations.  Fish will be sampled for chemical analyses, biological effects and fish diseases (Table 2).  Some biological effects measurements will be carried out during the survey.
Monitoring of all litter brought on board during trawling operations will continue throughout the survey.  The catamaran will be deployed to sample for micro-plastics whenever possible and samples processed onboard as far as possible.  Additional sediment samples will also be taken for micro-plastics where possible.  Fish guts and any other biota of interest will be preserved and returned to the lab for analysis.
The Aquatracka will be deployed in the Forth and in at least one other area to obtain reference measurements.
Sediment will be collected to provide chemistry laboratory reference material.  Where possible, if sufficient suitable fish are obtained which are not required for other studies then livers will also be sampled for reference material.
General Arrangements: 
Liquid nitrogen and buffered formalin will be carried aboard for the preservation and storage of biological material.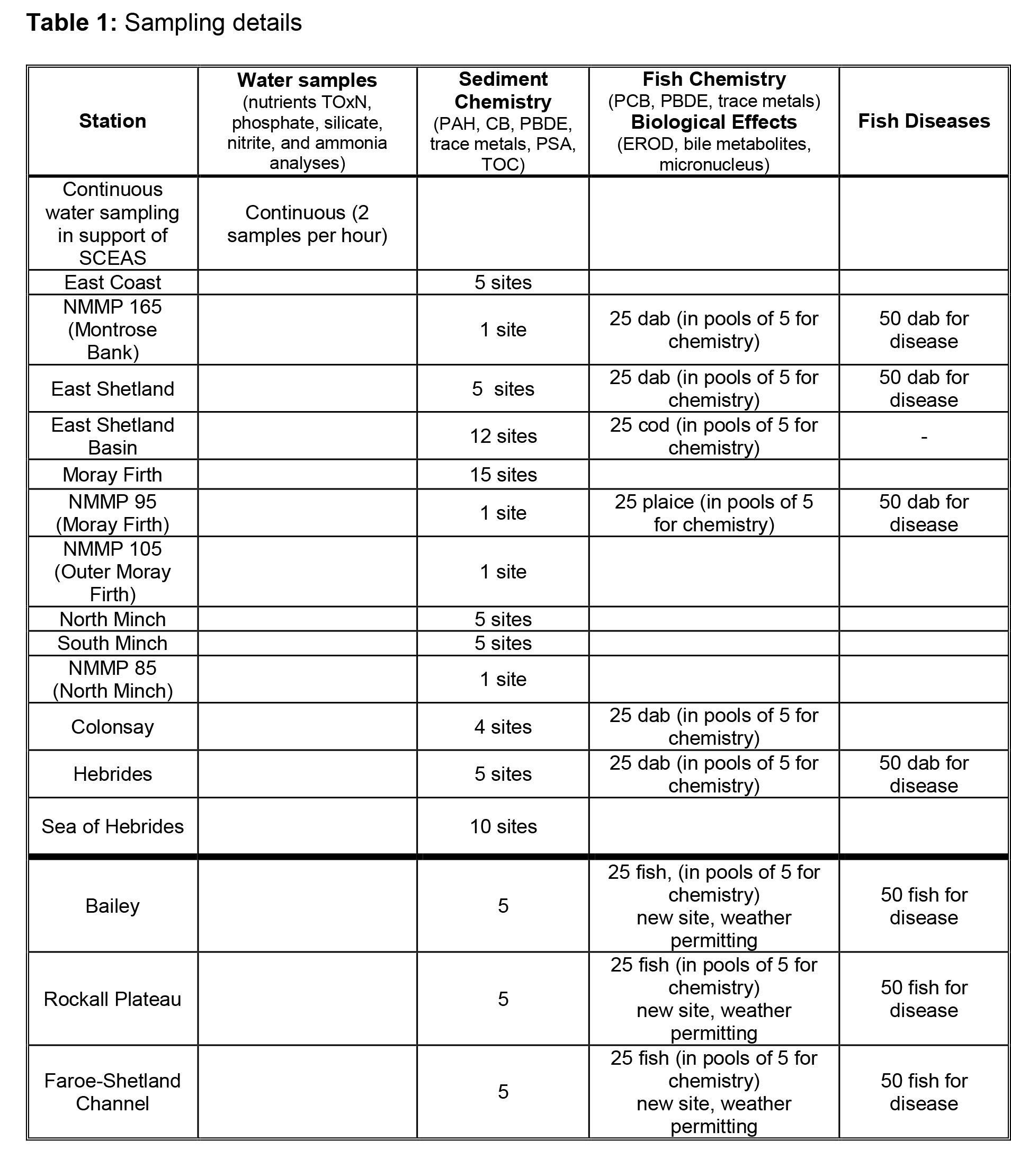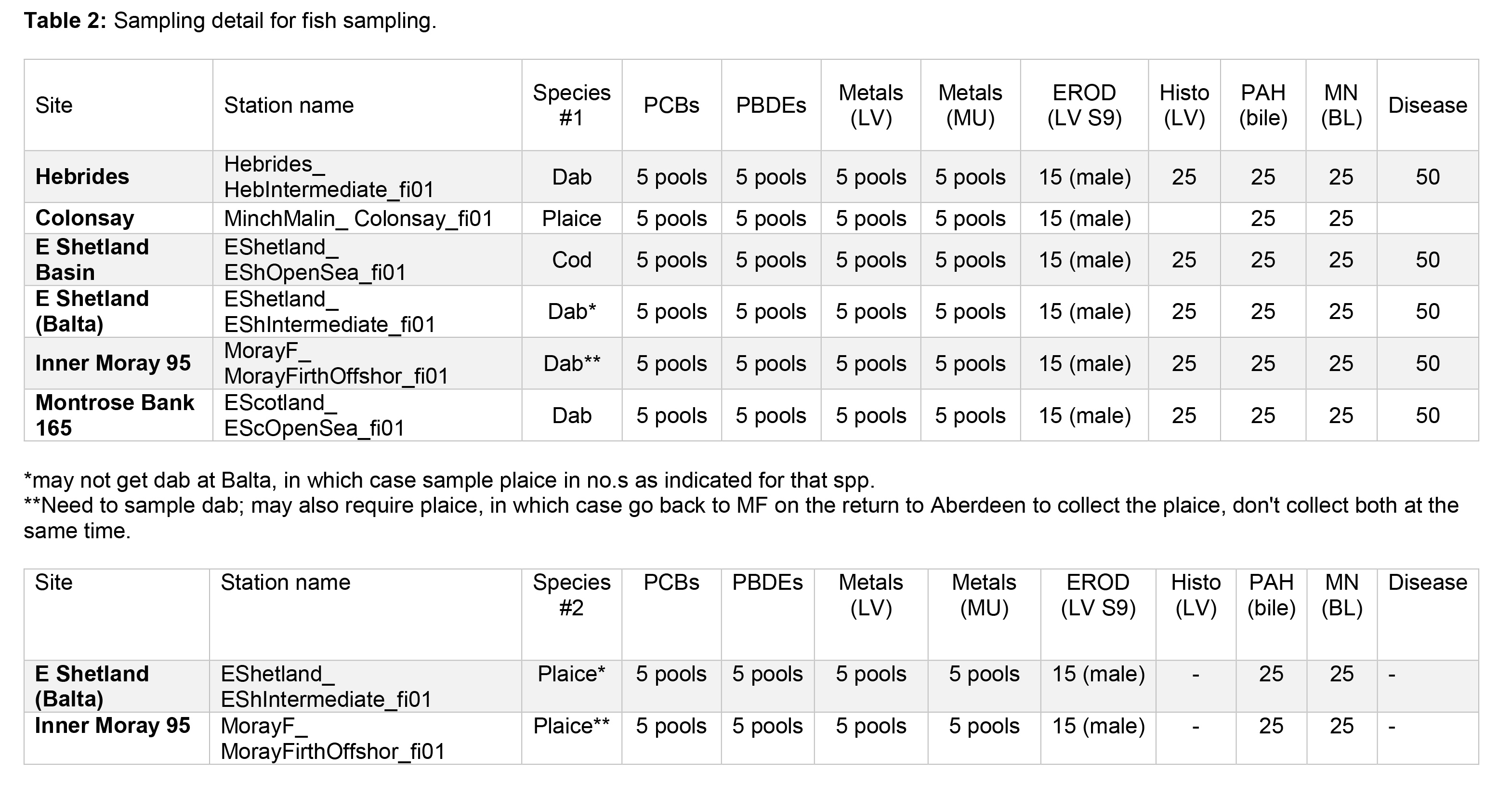 Further Information:
Tags: Colonsay, CSEMP, East Shetland, Fish sampling, fluorescence data, Hebrides, Inner Moray, Montrose Bank, MRV Scotia, SCEAS, Sea of Hebrides, Sediment sampling
Comments