Marine Scotland
Researching Blue Carbon – meet Dani Whitlock
March 27, 2019 by Marine Scotland Communications No Comments | Category Blue Carbon, Collaborations, Marine Scotland Science
Last December, we told you about a new Scottish Government funded research programme into Blue Carbon which started in early 2017 as part of a commitment in the 2017-2018 Programme for Government.
The current focus of the programme revolves around measuring the ability of various habitats to sequester carbon, understanding how it is stored for the long term, and building an evidence base on the effects that human activities may have on these process.  To support the programme, the Scottish Government has sponsored a number of PhD students and Marine Scotland has just established the Scottish Blue Carbon Forum (SBCF), which will be made up of the students and supervisors of the studies, as well as external stakeholders and Scottish Government climate change colleagues.
We've introduced you to some of our PhD students already but next up, to tell you more about their work is Dani Whitlock:
Scotland is home to approximately 20% of the seagrass meadows across North West Europe. These meadows are home to a wide range of species and help protect shorelines from erosion. In addition, seagrass can trap and store carbon and these meadows may represent one of the largest natural stores of carbon in Scotland.
Two years ago when I embarked upon my PhD, if someone had told me my project was going to take me to some of the most beautiful coastal landscapes across Scotland, I would have been really excited. If I had been told I would improve Scotland's understanding of the complex dynamics of carbon within intertidal seagrass meadows, I would have been ecstatic. However, if someone had said that in order to do this I would need to bury over 500 teabags across the country I would have been both confused and a little dumfounded.
Why have I buried tea (pictured right)?
The temporary or permanent storage of carbon in soils and sediments depends on the balance between input and output; the former largely from production and the latter from decomposition. So in order to understand the carbon wit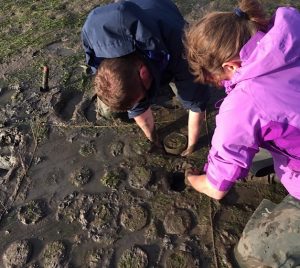 hin this habitat and the variation in carbon storage across seagrass meadows around Scotland we need to understand more about the breakdown of organic material.
To investigate this, I needed a standardised method that could be applied across multiple locations and with minimal harm to this precious habitat. The Global Wetland Decomposition Initiative – TeaComposition H2O – provided just that. This initiative includes over 350 wetland sites around the world, across 35 countries. It uses standard batches of tea as comparable substrate, meaning that 17 months ago there were approximately 19,000 tea bags deployed worldwide. Over 500 of those were buried in seagrass and control plots across Scotland. I have used two types of tea; green tea to represent the more easily broken down leaf material and Rooibos tea to represent root material that is more resistant to breakdown.
At different time points over 3 years, teabags will be extracted to understand the rate at which the material is broken down and I have began to explore the microscopic organisms involved in the initial stages of this process. To study these organisms I have extracted the DNA to identify the quantity and diversity of organisms actively breaking down the material.
While waiting for my tea to brew, I am busy investigating other properties that could explain the variation in carbon stored within seagrass meadows around Scotland.
For example, I am exploring both sediment particle size and how resistant the seagrass meadow is to erosion. Sediment is composed of clay, silt and sand particles. In general, finer particle size (sediments with a high clay content) is linked to higher carbon storage, however this is dependent on both seagrass species and area. Therefore investigating the association between carbon and particle size could help predict the effectiveness of a seagrass meadow in trapping and storing carbon.
By understanding the important biological, chemical and physical properties that support and drive storage of carbon, we will be one step closer to managing and protecting these habitats effectively, for the benefits of humans, wildlife and the climate.
Dani Whitlock
Further Information
Tags: blue carbon, carbon cycles, Marine, PHD, research, science, seagrass
Comments