Marine
Smartfish H2020 collaborations
February 14, 2020 by admin No Comments | Category Collaborations
The third annual meeting of the EU H2020 SmartFish project has concluded in Aberdeen.
As highlighted in an earlier blog, SmartFish is an important collaborative four-year project on fishing technology, led by SINTEF (Norway) and featuring key contributions from Marine Scotland Science. The third annual project meeting was held 11-13 February in the Sir Ian Wood Building, Robert Gordon University, Aberdeen, and was attended by 41 scientists from six countries.
The three days of the meeting were organised thematically, with day one focussing on summaries of project progress, day two continuing with this but adding a vital session on Intellectual Property Rights (essential in a multinational project), and day three featuring further round-ups and planning for the next year of work.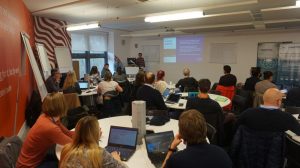 Continued involvement in EU projects of this kind remains very important for Marine Scotland Science, and the welcoming address by Dr Coby Needle, Chief Fisheries Advisor for Scotland, emphasised this.
Reflecting on the meeting he said:
"We extended a warm welcome to our visitors to Aberdeen, on the coldest week of the winter so far, and I was very happy to be able to say that we are continuing to work with European partners on work of critical value to the people of Scotland.
"The principles of innovation underpinning the project remain core to us, and we will remain part of all EU Horizon 2020 projects under the same conditions as pertained prior to the UK leaving the EU. This particular project is led by Norway, a non-EU country, and of the 41 participants in the meeting, 29 were from non-EU countries. Fish aren't constrained by geographical boundaries, and important fisheries science such as this should be similarly unfettered.
"Our hosts at the Robert Gordon University were very accommodating and helpful, and I am pleased to say that our overseas visitors appreciated both the excellent meeting facilities and location, and the warm Aberdonian welcome – despite some chilly weather."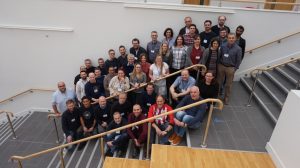 Tags: Aberdeen, Smartfish H2020
Comments