Marine
Sharks, skates and rays
August 13, 2020 by Marine Directorate Communications No Comments | Category Compliance, Fisheries, Marine Directorate general, Marine Directorate Science, Marine Directorate Surveys, Marine Planning, Research Vessel Surveys
It's shark week and with over 30 species of sharks, skates and rays recorded in Scottish waters there's a lot to celebrate!
Sharks are part of the elasmobranch family, which also includes skates and rays. Elasmobranchs differ from other fish in the sea by having a skeletal structure made out of cartilage as opposed to bone.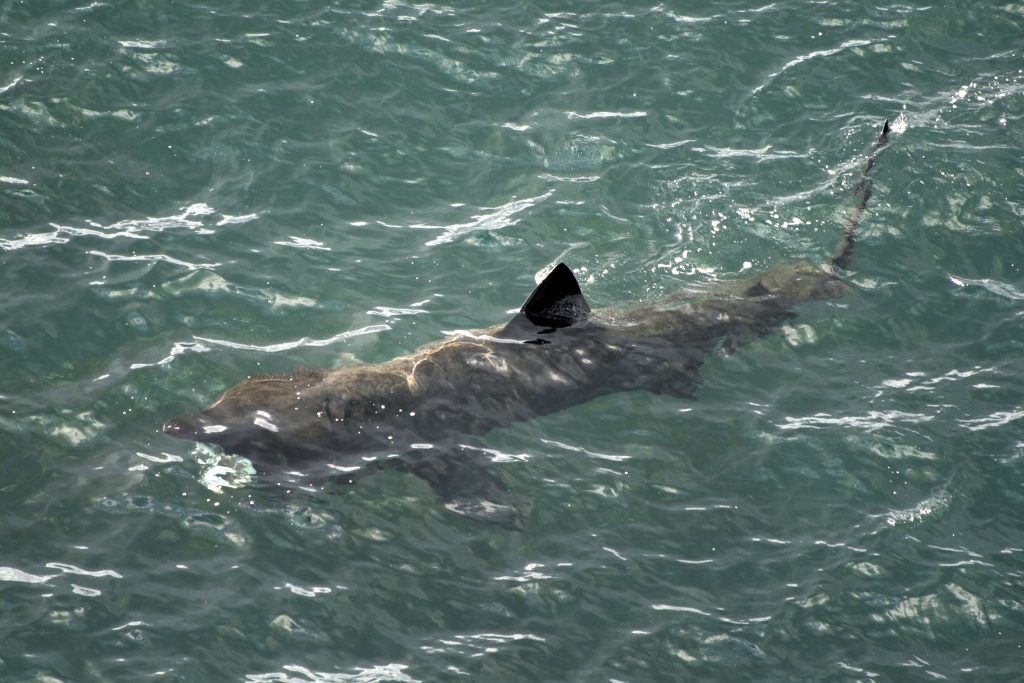 Elasmobranchs range throughout the oceans and can be found in all oceanic and coastal zones. All sharks and rays living in Scottish waters are included in the OSPAR list of Threatened and/or Declined Species which assesses the species and habitats in the OSPAR maritime area that need to be protected.
All elasmobranchs share life history characteristics which make them vulnerable to overfishing. This vulnerability means that once depleted, populations take a long time to recover. Many species are also vulnerable to habitat disturbance and loss and some surface dwelling species such as the basking shark are susceptible to boat strikes and harassment from surface vessels.
That is why we have Priority Marine Features (PMFs) which are a variety of habitats and species that are of conservation importance in Scotland's seas. PMFs are key components of the marine ecosystem and provide a range of beneficial ecosystem services. The following elasmobranchs are classified as such:
Basking shark
The basking shark is the second largest fish in the world and the largest in British waters, growing up to 9.8m in length. They are known to migrate over large distances in both offshore and coastal waters at depths from the surface to over 750m. They are particularly associated with tidal fronts on the continental shelf and shelf edge where they feed on plankton.
Basking sharks have been recorded from around the whole Scottish coast, with sightings peaking in the summer months especially at a number of hot spots on the west coast. Marine Scotland recently consulted on a proposed Marine Protected Area (MPA) to protect basking shark in the Sea of the Hebrides.
Spiny dogfish
This is a large dogfish reaching 1.6m in length and is one of the most abundant shark species in the world. It is widely distributed in Scottish waters and is found just above the sea bed, typically at depths of 10-200m (but can be as deep as 900m).
Porbeagle shark
The porbeagle shark can reach 3.5m in length and is usually found in mid-water between 200-700m, but sometimes in shallower water closer to the inshore. It is widely distributed around Scotland although considered rare.
Portuguese dogfish
This dogfish can reach 1.2m in length and is a deepwater species found in depths of between 400-2700m on the continental slope and right down to the abyssal plain. Around Scotland it is found on the continental slope west of the Outer Hebrides and on the flanks of offshore seamounts and banks such as Rockall and Rosemary Bank, located west and northwest of the Scottish coast.
Leafscale gulper shark
The leafscale gulper shark can reach 1.6m in length and is another deepwater species with a depth range of between 500 – 1500m. Around Scotland its geographic range broadly mirrors that of the Portuguese dogfish.
Common skate
What used to be called common skate is actually two species. The larger flapper skate can grow up to 2.5m in length, and is found at depths down to 600m. It has been recorded from all around Scotland. It was once abundant in north-west Europe but there have been significant declines around the UK over the last century due to overfishing. The Loch Sunart to Sound of Jura Marine Protected Area (MPA) is the only MPA designated for the protection of this species.
The slightly smaller common blue skate is less commonly encountered around Scottish waters than the flapper skate apart from on Rockall Bank where it predominates. It inhabits a very similar depth range to that of the flapper skate.
Blue shark
The blue shark can grow up to 3.8m in length. As part of its annual migration, it can be found in offshore areas to the west of Scotland as well as on offshore banks such as Rockall Bank during the summer months. It is found at depths from the surface down to 600m.
Sandy ray
The sandy ray can reach 1.2 m in length and occurs at depths from 70-600m. It is an offshore species typically found on sandy or muddy sea beds to the west of Scotland but can also be found elsewhere around the coast.
Further Information:
Tags: basking shark, blue shark, common skate, elasmobranch, Flapper Skate, leafscale gulper shark, Loch Sunart, Marine Protected Area, OSPAR, porbeagle shark, portuguese dogfish, Priority Marine Feature, Rockall Bank, Rosemary Bank, sandy ray, Shark Week, Sound of Jura, spiny dogfish
Comments