Marine
Celebrating 25 years of environmental monitoring
October 25, 2021 by Marine Directorate Communications No Comments | Category Marine Directorate general, Marine Directorate Science, Marine Directorate Surveys, Oceanography, Scotland's Marine Assessment, Scottish Coastal Observatory
The Scottish Coastal Observatory (SCObs) is celebrating its 25th year of monitoring Scottish coastal seas.
Operated by the Marine Scotland directorate of the Scottish Government, SCObs samples temperature, salt content (salinity), chemistry (nutrients, ocean acidification), microscopic plants (algal pigments, phytoplankton) and animals (zooplankton) weekly around the Scottish coast.
SCObs data helps colleagues monitor and record the long term changes in our coastal waters and how these vary regionally around the Scottish coast. This is critical for us to understand how climate change is impacting our marine ecosystem and the plants and animals that live there. SCObs data provides baseline information that will help society adapt in the future to support the marine environment and the industries that depend on it. This is part of the Scottish Government's work to tackle the twin crises of climate change and biodiversity loss.
The complete SCObs dataset, along with a companion report explaining the dataset and how to use it, is available and fully searchable on the Marine Scotland Monitoring Data page. We encourage everyone with an interest in the marine environment, including professional scientists, policymakers, students and concerned citizens to use these resources to find out more about the environmental conditions around Scotland's coasts.
SCObs data also play an important role in meeting the Scottish Government's national and international monitoring and reporting obligations relating to the condition of the marine environment and they have been used in over 20 academic collaborations to further our knowledge of the coastal ecosystems around Scotland.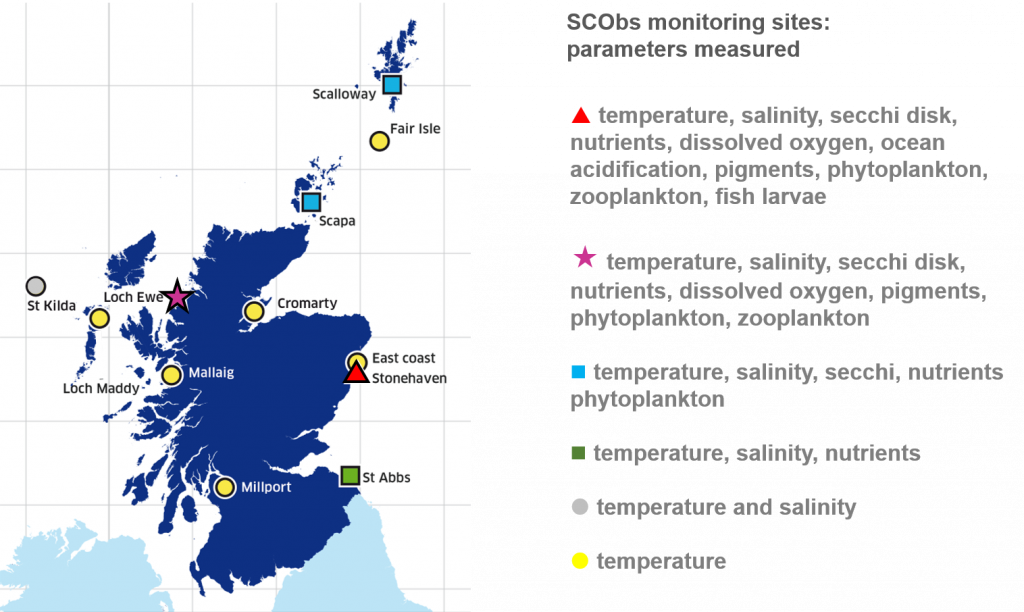 Observations from SCOBs which help inform wider Scottish Government policies include:
the temperature in Scotland's coastal waters varies regionally due to ocean circulation and prevailing weather conditions: the average annual temperature in the Clyde and along the west coast is approximately 1 oC warmer than in Orkney, Shetland and the east coast
complementary data from the Met Office show that the average temperature in Scottish coastal waters over the last 10 years were warmer than the average between 1981- 2010
the salinity (salt content) of coastal waters has declined in Loch Ewe, Scapa, Scalloway and Stonehaven since 2012 – this has the potential to impact the plankton community (microscopic plants and animals) at these sites
there has been a sharp decline in zooplankton abundance recorded at Loch Ewe and in some phytoplankton species, altering the amount and type of food available for fish larvae and shellfish
shell corrosion has been observed in the early life stages of marine snails and bivalve molluscs at Stonehaven which suggests the potential for ocean acidification to negatively impact the abundance and growth of mussels and scallops which are of commercial importance to Scotland
The SCObs programme relies on a number of keen citizen scientists and contractors, in addition to Marine Scotland directorate colleagues, to collect water samples and to lower instruments in the sea each week in all weathers.  Their commitment and enthusiasm is the reason that we can all celebrate 25 years of the SCObs programme.
Thanks to: Millport: Field Studies Council Millport, Mallaig: Hugh Cameron, Loch Maddy: John Macdonald, Loch Ewe: Loch Ewe Shellfish, Scapa: Orkney Islands Harbour Council, Scalloway: North Atlantic Fisheries College, Fair Isle: David Parnaby, Cromarty: Tim Barton, Stonehaven: The Stonehaven Sampling Team, St. Abbs: St Abbs Marine Station and St. Kilda: National Trust for Scotland.
SCObs is part of the Scottish Government's work to achieve the UN's Sustainable Development Goals (SDGs) around climate action and life below water by 2030, and relates to UN SGD target 14 on marine life. The National Performance Framework is Scotland's way to localise these goals, and sets out the vision for people in Scotland to value, enjoy, protect and enhance our environment. This progress is monitored to understand how well Scotland is performing across the environmental indicators.
For more information:
A report describing using SCObs data to describe Scotland's coastal environment was published in 2016
SCObs data has been used in multiple assessments of the marine environment and are available to read online. These assessments include:
Tags: climate change, coastal monitoring, coastal waters, marine ecosystem, marine environment, Marine Scotland, Marine Scotland Information, Marine Scotland Science, Monitoring, Ocean Acidification, Scottish Coastal Observatory, Scottish Government, Sustainable Development Goals
Comments