Marine
Progressing Scotland's Leadership on Blue Carbon
April 21, 2022 by Marine Directorate Communications No Comments | Category Blue Carbon, Collaborations, Marine Directorate general, Scottish Blue Carbon Forum
The Scottish Government has launched the Blue Carbon International Policy Challenge (BCIPC) today (21 April 2022), with awards of up to £10,000 available for five successful projects that will establish blueprints for domestic and international climate action to support the marine ecosystem. Applications are open until 19 May 2022.
The challenge, which will run until the start of October 2022, aims to bring together private, public and third sector organisations from across the globe to increase our collective knowledge of blue carbon habitats, which play an important role in capturing and storing carbon, as well as for climate adaptation and biodiversity.
Each project will address a key question for blue carbon policy, helping to identify the opportunities and barriers to scale up ocean action, in Scotland and internationally.
While Scotland is leading the UK on blue carbon research and our developing expertise is internationally recognised, more research is needed to inform our approach to protecting and restoring these important habitats, which include saltmarshes, seagrasses, kelp beds, biogenic reefs and more.
The Blue Carbon International Policy Challenge aims to fill gaps in our knowledge of blue carbon and provides a vital link between COP26 and COP27.
Minister for Environment and Land Reform, Mairi McAllan said:
"International collaborations, such as those that will be developed through the Blue Carbon International Policy Challenge, have a critical role to play in bringing people together to work towards a common goal, enabling exchange of knowledge and best practise and helping to accelerate action"
"We welcome applications from organisations around the world to enhance our shared understanding of blue carbon, tackle the challenges we are facing together and deliver on our COP27 blue carbon ambitions both in Scotland and beyond."
Chair of the Scottish Blue Carbon Forum, Professor William Austin (University of St Andrews) said:
"I would like to commend the Minister and the Scottish Government on their post-COP26 commitments to blue carbon and particularly the support for international partnership working that has been announced today. The challenges to our oceans are global in nature and I am delighted that Scotland's progress in developing a forward-looking blue carbon research and policy agenda can now be extended through this new initiative – we have much to learn and much to offer through such international partnership working."
"This announcement will echo across the international community, many of whom joined us in Scotland during COP26. The announcement highlights our shared commitment to blue carbon nature-based solutions that can deliver for climate, people and biodiversity."
Further guidance on how to apply, including eligibility criteria, can be found on the  Scottish Blue Carbon Forum website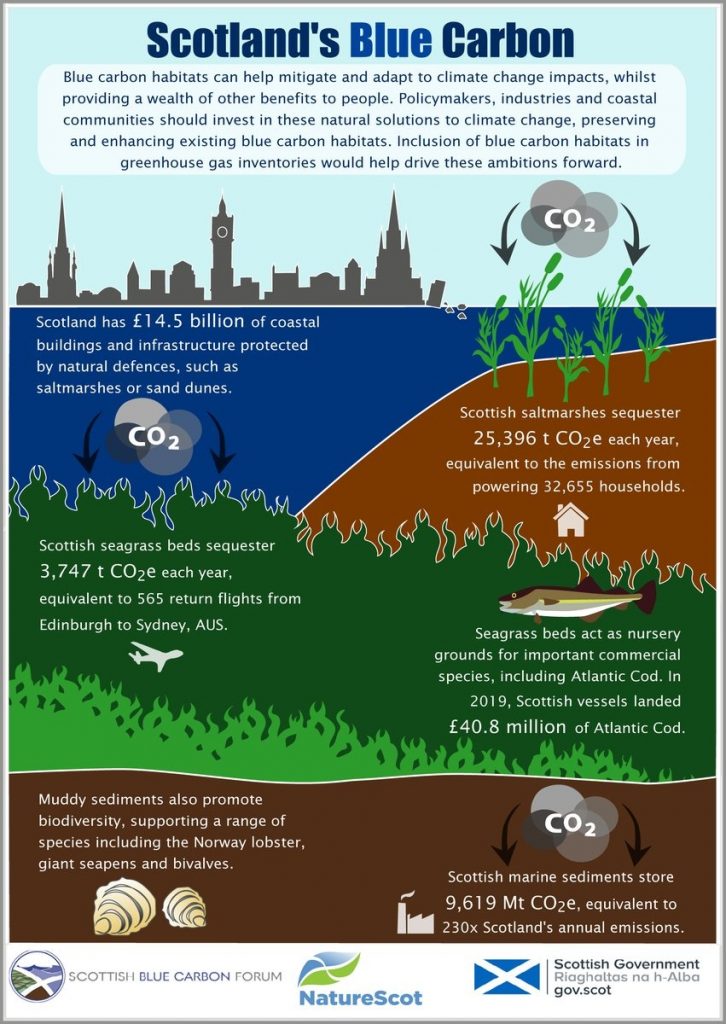 Further information:
Feature image: Minister for Environment and Land Reform, Mairi McAllan. Crown copyright.
Tags: biodiversity, blue carbon, Blue Carbon Forum, Blue Carbon International Policy Challenge, climate action, climate adaptation, COP26, COP27, Scottish Blue Carbon Forum, Scottish Government
Comments