Public Procurement and Property
Social Enterprise Scotland encouraging values-led procurement
September 20, 2021 by Guest Blogger No Comments | Category Best practice, Guest Blog, Procurement news, Scottish Procurement, SMEs, Social Enterprises, suppliers, Third sector, Useful tools
Scottish Procurement welcome back Social Enterprise Scotland to discuss the launch of a new Buy Social Scotland campaign to encourage values-led procurement with social enterprises.
---
With COVID-19 recovery, addressing inequalities and tackling the climate emergency noted as key targets in the Programme for Government published earlier this month, there has never been a better time for supporting the positive role that the private and public sector can take by aligning with social enterprises across Scotland.
What is the Buy Social Scotland Corporate Challenge?
The Buy Social Scotland Corporate Challenge is a new initiative supported by the Scottish Government that aims to encourage positive impact through values-led procurement. Aligned with the Social Enterprise Action Plan, the new national campaign looks to promote social enterprise business services and products to private and public sector procurement buyers and make it easier for the latter to partner with the sector.
If you're available, do join the online launch event on Tuesday 21 September at 2pm to hear from Tom Arthur, MSP and Minister for Public Finance, Planning and Community Wealth, as well as corporate pledge partners and social enterprise suppliers involved in the campaign.
 The campaign builds on the needs of organisations who are increasingly considering their wider social and environmental impact and wish to actively support sustainable development goals and positive initiatives such as Community Wealth Building led by the public sector.
Supply chains play a huge role in the impact that businesses have on society and this new campaign is built around a simple and bold question – if organisations need to spend money on business goods and services, why not spend it with social enterprises that deliver impact in local communities in Scotland and beyond?
To help private and public organisations looking to 'Buy Social', Social Enterprise Scotland have launched two key outputs:
A Corporate Challenge Programme which sees companies pledge to support social enterprises through their supply chain. There are seven businesses already signed up and we are looking to engage with more. Collectively, the cohort will spend £1 million with social enterprises over 2021/2022.
A new services directory that makes it easier for businesses and organisations to find B2B goods and services from Scottish social enterprises and can be filtered by type of service, region, or type of social or environmental impact delivered.
Using the directory, businesses are able to find a wide range of B2B products and services available from catering and event gifting to employee engagement, manufacturing goods, printing, and signage. By signing the Corporate Pledge, Social Enterprise Scotland will then work with these businesses around their supply chain needs for which they'd be happy to consider social enterprises.
With over 6,000 social enterprises in Scotland, many already offering business goods and services, there is ample opportunity for companies to support social, environmental and community impact simply by buying what they already need.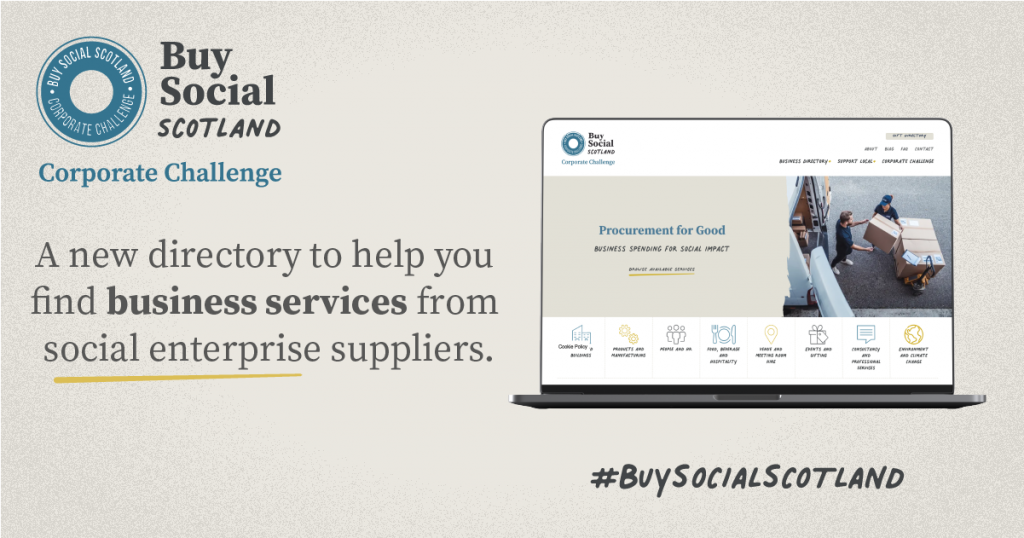 How you can get involved with the #BuySocialScotland campaign
 There are many ways to help share the word about the campaign and to support social enterprises across Scotland.
You can browse the new directory to find services and products that your organisation needs and send this post to colleagues and peers across the private and public sectors who might be interested in partnering with social enterprises.
You can share the word about the campaign on social media, we have social copy drafts, images and videos that you can use in our campaign toolkit.
Perhaps you know a great social enterprise offering business services that could benefit from being featured in the directory? It's free to be promoted, they can simply submit their information by filling in this Google form or emailing Jesse Audubey at buysocial@socialenterprise.scot.
Finally, if you're a company interested in joining the Corporate Challenge as a partner, Social Enterprise Scotland will be happy to give you more information. Please get in touch with Naomi Johnson at naomi.johnson@socialenterprise.scot to express your interest.
---
Thank you to Social Enterprise Scotland for providing an update on the new Corporate Challenge Programme and the new services directory. Both excellent examples of how the #PowerOfProcurement can support more social enterprise organisations to build their business by engaging with the public and private sector.
Public procurement in Scotland is:
– Good for Business and Employees
– Good for Society
– Good for Places and Communities
– Open and Connected
For further information on Scotland's Public Procurement Priorities please click here.
LINKS
Please forward any enquiries to scottishprocurement@gov.scot
Follow Scottish Procurement on Twitter @ScotProcurement
Follow Scottish Procurement on LinkedIn
Watch more Scottish Procurement videos on Vimeo
Tags: buyers, procurement, Public procurement, public sector, Scottish Procurement, Scottish public sector, SMEs, social enterprise scotland, social enterprises, Suppliers, third sector
Comments