Rural and Environment
Musings on Marrakech
November 17, 2016 by Roseanna Cunningham MSP No Comments | Category Climate Change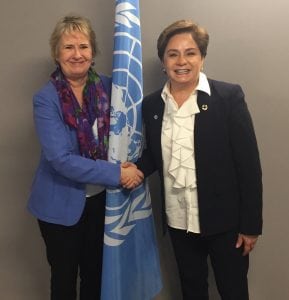 The recent US Presidential elections may have put the international spotlight on the Paris Agreement but for me it was very much business as usual at this year's UN Climate Change Conference in Marrakech.
After last year's landmark conference and negotiations around the Paris Agreement, this year was all about its implementation, and discussions on how we can all work to take forward this ambitious global plan.
I had a packed programme of meetings during my time in Marrakech but undoubtedly a personal highlight was meeting with Patricia Espinosa the new head of the UN climate body, who congratulated Scotland on the great achievement of meeting our 2020 emissions target six years early. It was really encouraging to hear her interest in Scotland and particularly around our climate justice actions.
On a panel discussing climate ambitions, encouraging engagement with @ClimateGroup – we have lots to offer & lots to learn @ScotGovClimate pic.twitter.com/8y5DuHOkug

— Roseanna Cunningham (@strathearnrose) November 14, 2016
I also met Dr Naoko Ishii CEO of the Global Environment Facility who, along with the World Bank, have been asked by the UNFCCC to help developing countries engage with the Paris Agreement – both Ms Espinosa and Dr Ishii expressed heartfelt thanks to Scotland for the financial support pledged by the First Minister from our Climate Justice Fund to help developing countries build their capacity in this area.
Indeed, a key part of my work at the conference was spreading the message that we all have a responsibility to help less developed countries cope with the huge climate challenges ahead.
Thanks @strathearnrose for meeting SCIAF's friends from @CIDSE @TierraDigna to talk #climatejustice + Scotland's climate plans at #COP22 pic.twitter.com/nnMkVmZqY7

— SCIAF (@sciaf) November 15, 2016
This was central to my meetings with representatives from South America, Africa, the Middle East and Europe through faith umbrella groups CIDSE and World Council of Churches, as well as Friends of the Earth International. Our efforts on climate justice have also helped give more than 70,000 people in developing countries in Sub-Saharan Africa access to clean, safe drinking water. This is so important because the increasingly unpredictable weather has been leading to more frequent floods and droughts, wiping out harvests and leaving people struggling to feed their families.
.@FoEInt team from Togo & Germany meet Scottish climate minister @strathearnrose to discuss climate action at @COP22 pic.twitter.com/LKes0btyDU

— Richard Dixon (@Richard_Dixon) November 15, 2016
Of course there is so much at stake also for future generations on climate change so I was delighted that Scotland's 2050 Group of young climate leaders was invited to put on a side event at COP for the second year running. Another highlight for me was my meeting with young climate champions from the UK Youth Climate Coalition and we talked about youth representation at the COP, education, climate justice, and the issues of loss and damage and adaptation – UKYCC has many Scottish members so I look forward to continuing discussions with them back home in Scotland.
In between all the meetings and events it was clear to see the momentum on cutting greenhouse gas emissions is unstoppable. There was real progress with regional governments committing to taking action through the Under2MoU Group which now covers 800 million people and 30% of the global economy.
But we cannot be complacent and we need to ensure that we are doing what we can to protect our environment and planet for future generations. Marrakech was a chance for me to listen to what other regions and states and how we can work together and raise our ambitions. I was really interested to hear from experts in California and Germany about their work which could help inform our approach.
Want to know about Scotland's ambitious #climateaction? Check out our video for highlights #cop22 https://t.co/6g9mMpcX7P

— Scot Gov Climate (@ScotGovClimate) November 15, 2016
We may be a small country but we can play a much bigger role in leadership and we will continue to take part in these international efforts.
Over the coming months I will use my experience in Marrakech and lessons from our international neighbours to feed into our own proposals for climate change.
Tags: climate change, Climate Justice Fund, COP22. Marrakech, Paris Agreement, Roseanna Cunningham, Scottish Government, UN
Comments