Statistics
Health and Care Experience Survey Pack
July 20, 2017 by hsca No Comments | Category Health and social care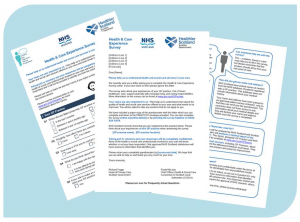 We are busy getting organised for the next Health and Care Experience survey. The survey is due to be sent out in Autumn this year.
The questionnaire has been revised to make it shorter and easier to use, but making sure that the information collected is still relevant and useful. The same has been done to the letter that is sent out with the questionnaire.
We have tested this new survey pack with the help of some willing volunteers, who provided us with valuable feedback, and we also consulted with our stakeholders.
Draft versions of these new survey pack documents can be viewed at www.gov.scot/Topics/Statistics/Browse/Health/GPPatientExperienceSurvey. If you have any comments, please let us know by emailing us at patientexperience@gov.scot.
We are also starting to plan for our other Care Experience Surveys, so make sure you are kept up to date by checking the latest news on our webpages at www.gov.scot/Topics/Statistics/Browse/Health/careexperience.
Join, using the subscription service, to receive automatic updates when we issue new health and social care blog posts.
Tags: GP, health, Questionnaire, Scotland, statistics, Survey
Comments