Digital
An update on our accessibility testing
December 3, 2015 by craigmilligan No Comments | Category Digital Public Services, mygov.scot
This is a post by Sam Tilston, one of our user researchers, and Scott Langley, one of our user experience designers.
As part of our on-going accessibility work on www.mygov.scot, we recently carried out a round of accessibility testing. It's an important part of our overall accessibility strategy to carry out testing with real users as they can help identify issues that automated tests and expert audits won't find.
Our approach
We interviewed 10 participants over a two-week period at a number of locations across Scotland. We asked the participants to carry out representative tasks on the site and explored a number of key areas, primarily to evaluate the site and ensure it is usable for users with disabilities and users of assistive technology.
We recruited a spread of participants who had either a physical, cognitive or visual impairment. Although we segmented the participants into these three groups it is important to be careful with categorisation, as there can be large differences within in each category and the severity of the impairment can vary greatly. Additionally, it is common for people to have multiple impairments.
We tested across a variety of platforms and participants made use of their own assistive technology (including screen-magnifiers, screen-readers, styluses and other input devices).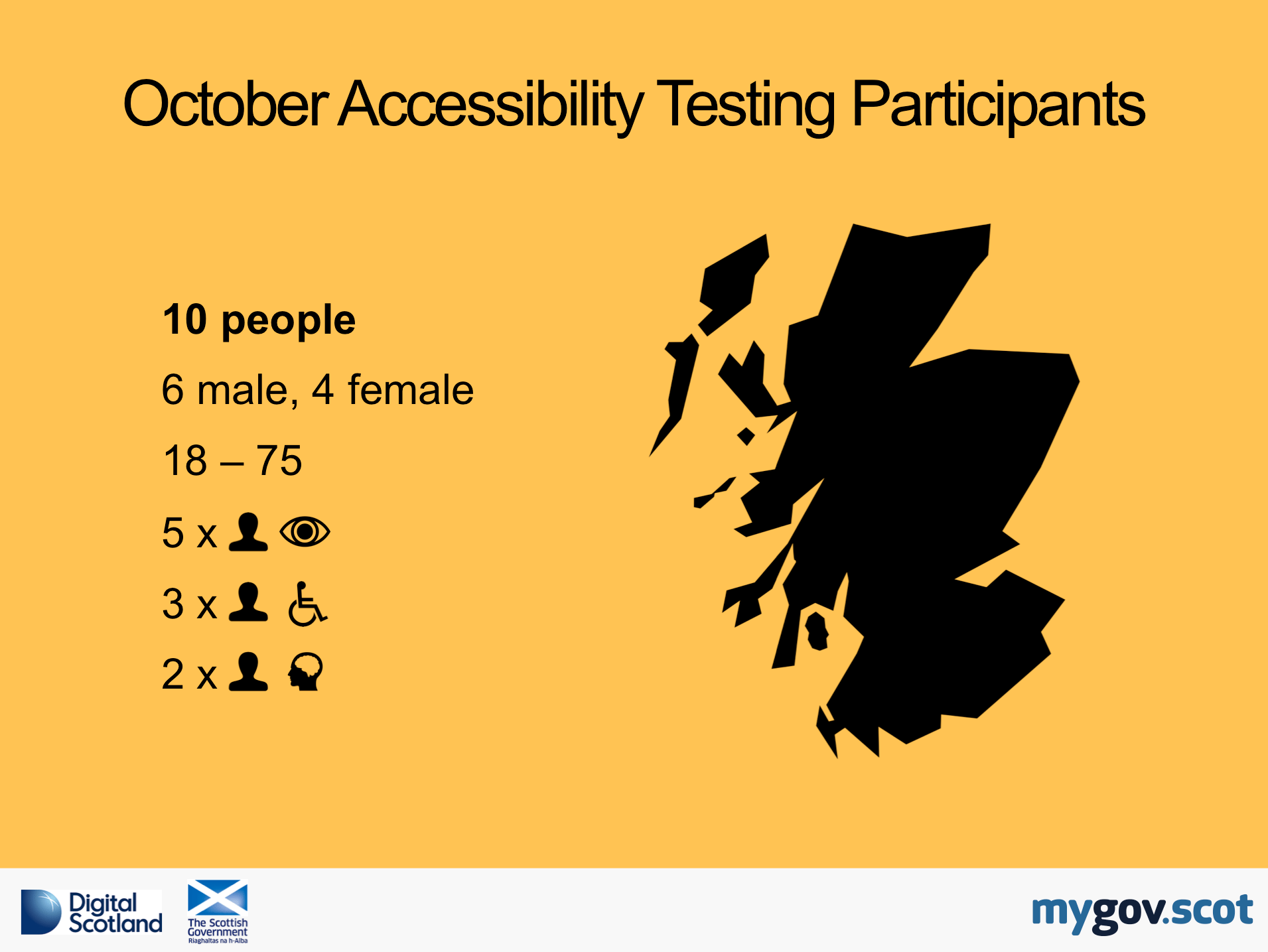 Why it's important
Accessibility impacts a large number of people as nearly one in five (1 million, or 19%) people of working age in Scotland are disabled. We also live in an aging population, and as we age, most people experience a decrease in vision, hearing, physical abilities, and cognitive abilities, which will in turn lead to an increase in the number of people requiring assistive technology to access the web.
However, more significantly, it is important to get accessibility right as it impacts everyone. If something is inaccessible for a user with an impairment or disability it is likely that it will impact all users. By improving the accessibility of the mygov.scot site we make it a better experience for all.
Findings relating to the mygov.scot site
Given that we've been through previous rounds of both usability testing and internal accessibility testing the site had a healthy starting point. However, we uncovered a lot of insight for areas to work on as well as things that we'd like to continue bearing in mind for future iterations.
Consistency – sometimes formats changed when users navigated between areas of content. Some users, particularly those using screen-magnifiers, can lose their context if formats alternate e.g. from two columns to three columns.
Headings are important– users tend to scan through pages and pick out headings and sub-headings to help them navigate, and is a key method of interaction when using a screen-reader. The headings also aid less tech-savvy users who are less likely to use the search function and rely on the main navigation. Therefore the words that are chosen are crucial e.g. it's important to see a word such as tax in a navigational heading if the user is looking for where to pay their council tax.
Prioritisation of calls to action – users of screen-readers missed some of our calls to action, as they tended to tab between headings and links. In future we need to be even clearer on our calls to action (whether it's a dropdown list, a link, a button or a phone number).
Terminology– with most of our content we write about the user directly e.g. your needs. This can be confusing in situations where the user is searching on behalf of someone else, such as someone looking for elderly care for a family member. We need to consider the words that users are familiar with and will use commonly, and furthermore how this applies to search.
General usability – we identified a number of minor usability issues, which can be amplified for users of assistive technology e.g. content below the fold was occasionally missed by tablet users, some page elements could be slow to react, and there was a lack of use of the right hand side links. Once improved, the issues raised here will vastly benefit the overall performance of the site.
We're part of a bigger journey– users may well only be using mygov.scot as part of a bigger journey and we need to work even harder to ensure that users can easily see if they are being signposted away from the mygov.scot site and make the user's journey as simple as possible – especially if we feel that the external site does not currently offer a good user experience.
Wider user research findings
There are also several points which are relevant to any website in the Scottish public-sector landscape:
Online confidence and experience a bigger factor than impairments – we scaled all participants on their level of online confidence, as it was observed that a lack of confidence or experience online was often more of a hindrance to using the site than the severity of any impairment.
Problem solving is required to complete some journeys – this means that some people will always rely on additional support in some form, whether that is digital hand-holding or real-world assistance. We plan to further explore cognitive issues through usability testing in 2016.
Never make assumptions around literacy – the actual words that we use in the public sector as whole can cause issues. We're already doing work to improve the readability of the mygov.scot site via SMOG tests but all of Government can learn to make content easier to read and understand by cutting out jargon, unnecessary technical terms and abbreviations.
Accessibility is part of the bigger picture of Digital Participation – refining web accessibility is important but improving digital public services also requires the removal of other social, economic and cultural barriers.
Next steps
The mygov.scot team have several actions that have been directly created as a result of the work and accessibility testing and audits will be continue to be part of the iterative development process.
As well as this we are in the process of creating an 'accessibility working group' within the public sector in Scotland – if you are interested in being involved then drop us a comment below or on Twitter.
Our end takeaway is pretty simple – it's everyone's job to make content and the overall experience accessible.
We're on @mygovscot on Twitter for more updates. Want to comment? Let us know below!
Tags: Design and User Experience, user research
Comments