Digital
Web analytics update – December 2015
December 22, 2015 by craigmilligan No Comments | Category Digital Public Services, mygov.scot
With Christmas fast approaching, we thought it would be a good time to update you on our progress with the web analytics initiative. We blogged about our desire to understand aggregated statistics from the Scottish Government web portfolio a few months ago – explaining that our initial focus is on core websites. Core websites act as hubs for information provided by organisations.
You can find out more in the original blog post introducing the web analytics initiative.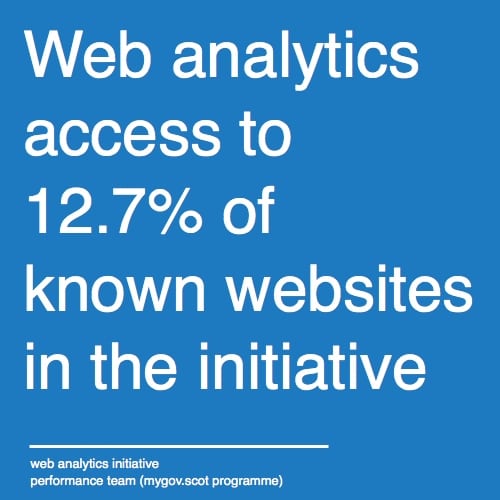 Progress
Things are progressing well considering resource and other activities which are being undertaken within the programme. So it's great to be able to say that we now have access to around 34 web properties out of all of the websites within the web analytics initiative, which is hit rate of about 12.7%. In addition, 180 of the websites we know about are considered 'core websites'  – an area of knowledge we wish to grow.
Learnings
We've begun to spend time aggregating metrics for each website to build the 'big picture'. This includes data from places like Majestic SEO and Google Analytics. There is potential to add our own metadata to group and classify websites as well, providing additional analysis potential, for example:
Education
Health
Justice
Environment
Housing
Local
Tourism
Transport
Business
Young People
Culture & Arts
Other
It's rough right now, but we're aiming to refine and improve this in the coming months. In the future, this could allow us to produce visualisations that highlight topics most linked to on the web. In it's original form, the below visualisation can be used to help us understand that political websites are some of the most well linked to, which includes Scottish Parliament.
The more we can learn about this web portfolio, the more we can share insightful and meaningful insights over the next few months with participating organisations.
There's a real opportunity to begin to form closer relationships with performance analysis colleagues from across Scottish Government as well – something we intend on exploring over the next few months.
We'll keep in touch.
We'll be sharing updates on this, and much more on social, so follow the team via @mygovscot on Twitter for more. Want to comment? Get in touch below!
Tags: Analytics & Measurement
Comments